Try this make-ahead meatless dish for a weekend brunch, picnic or tailgating, as this is good either hot or at room temperature.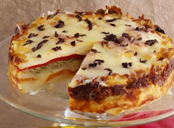 To simplify, just drained, jarred roasted peppers.
Deep-Dish Potato Torta  with Peppers and Olives
2 pounds peeled potatoes, halved, steamed and cut into thin sliced
3 bell peppers (orange, red and yellow), roasted, skinned and sliced
1 small onion, peeled and thinly sliced
1 cup thinly sliced, coarsely chopped fennel (white bottom part only)
1 tablespoon extra-virgin olive oil
3 tablespoons basil pesto
¾ pound thinly sliced part-skim mozzarella or fontina cheese, divided
¼ cup shredded manchego, Romano or Parmesan cheese, divided
3 tablespoons pitted, chopped Kalamata olives
Preheat the oven to 375 degrees.
Sauté the onion and fennel in olive oil for about 20 minutes or until very soft, stirring frequently. Stir in the pesto and cook for a few minutes more.
Spray a 9-inch, deep-dish pie plate or springform pan with cooking spray or olive oil, and place on a foil lined baking sheet. Cover the bottom with a third of the potatoes, half of the peppers and half of the cheese. Spread the onion mixture evenly over the top and cover with another layer of potatoes and peppers. Cover the top with the remaining cheese and sprinkle with olives.
Bake for 45 to 50 minutes, tenting the top with foil after 30 minutes. Let cool to room temperature and cut into 16 thin wedges. Makes 12 to 16 servings.
– Recipe (adapted for BiteoftheBest.com readers) and photo courtesy of US Potato Board