Upon arriving in Miami for the South Beach Wine and Food F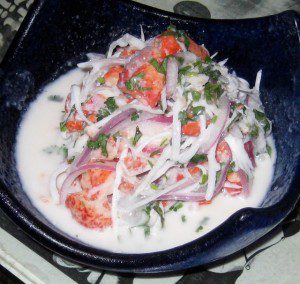 estival (SOBE) from the frigid northeast, we headed down ocean avenue almost to the end… around the corner from Joe's Stone Crab Restaurant to get a nibble at De Rodriguez on Ocean in the Hilton Bentley hotel. We wanted to eat something before heading off to the SOBE Shine & Swine event presented by Original Moonshine.
I had met Douglas Rodriguez many many years ago when he taught a cooking class at the now defunct Disney Institute in Orlando. (Does anyone other than me remember that?)
We jumped at the offering from this Cuban restaurant for outside seating. For Floridians it was too chilly, for us perfection with a Botran rum mojito in hand and a warm ocean breeze blowing.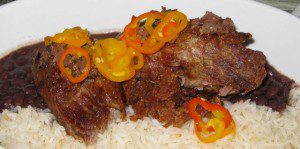 The most outstanding dish is his Thai Lobster ($22) ceviches with moist chunks of lobster with infused coconut water flavored with ginger, lemongrass, Thai chili, Thai basil and Kaffir lime and topped with a scoop of coconut sorbet (which had already melted by the time of the photo).
I also enjoyed his Crispy Cuban Pork ($27)  with tender crisp pieces of pork, topped with Cuban mojo (a blend of lime, garlic, and oregano) and sweet peppers over black beans and rice — although I felt that the dish could have used a more colore colorful garnish.
D. Rodriguez Cuba Restaurant
956 Washington Avenue
Miami Beach, FL 33139
(305) 673-3763
www.drodriguezcuba.com