We got off to a bad start at Daniel Boulud's East Village French gastro pub. None of the personnel knew much about their wine list, the samples they brought were oxidized and — once we finally decided — they were out of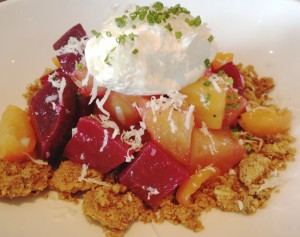 our selection. But…
…once we popped the cork and begin to sip our Louis Clerc Syrah 2011 ($45), all got back on track.
DBGB found a different twist to the ubiquitous beet salad. Theirs is refreshing, with yellow and red beets sitting on a sweet crumble, topped with whipped goat yogurt not cheese. And did I mention they tossed a few kumquats in with the beets. Unusually good.
The lightly-fried fish overflowed the sesame bun, so we ended up just eating the beer-battered cod with the spicy frisée (tossed in a jalapeno mayo) and leaving the bun. The fries were so good, we ordered a second batch ($7).
Also delicious was the dark chocolate praline cake – drizzled with a dark chocolate sauce, topped with milk chocolate ice cream and garnished gold leaf – which they beautifully wrote happy birthday to my friend.
All that for a price fixe lunch of $27.  I do recommend it…but suggest you order a draft!
–  bonnie
DBGB
Lower East Side, between 1st Street and Houston
299 Bowery
New York, NY 10003
(212) 933-5300