Although Da Andrea is new to the Greenwich Village area, the original trattoria opened in 2001 at 557 Hudson Street and recently moved uptown. That's lucky for those living in the neighborhood near West 13th Street (between 5th Avenue & 6th Avenue) as this local favorite offers tender pasta made fresh daily on the premises, traditional Emilia Romagna dishes and friendly service in a casual atmosphere at reasonable prices.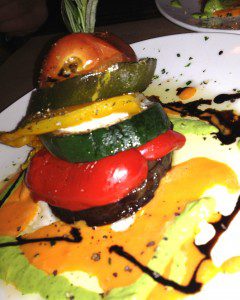 Along with some Proscecco, we sampled a few appetizers, all of which I'd recommend.  The warm polipo salad ($10.50) contained tender octopus with chunks of potatoes, sliced Gaeta olives and some capers.  Also delicious is the torretta ($8.50), a leaning tower of grilled seasonal veggies (zucchini, peppers, tomato) spread with goat cheese, seasoned with basil and drizzled with colorful sauces. The portobello con polenta ($9) included braised slices of the eponymous mushroom, seasoned with rosemary oil and served with a tender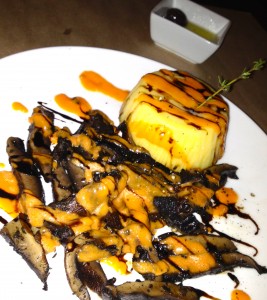 gorgonzola-enriched polenta.
Loved the tender homemade pappardelle ($13.00) with lots of fennel-infused sweet sausage in a light red sauce with a splash of truffle oil. My least favorite was the cavatelli ($13) with shrimp and salmon. The homemade pasta was tender and delicious, but was tossed with a bit too much pesto and the salmon was a bit fishy.
The only secondi we sampled was the grilled jump shrimp ($19.50) atop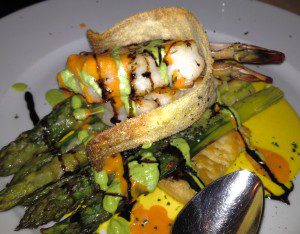 a slab of puff pastry with tender asparagus drizzled with a light saffron sauce — as tasty and it looked.
Be sure  to make a dinner reservation — only available to four or more — as the wait can be long! Only open for dinner.
Worth the visit, while not breaking the bank.
– bonnie
Da Andrea
35 West 13 Street
New York, NY 10011
212-367-1979
daandreanyc.com