As the chill of autumn settles in, nothing hits the spot like a warm bowl of Curried Sweet Potato Apple Soup! This spiced and naturally sweet soup made with nutrient-packed sweet potatoes is a hearty and healthy way to welcome the changing weat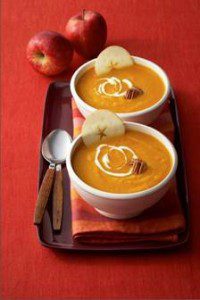 her.
CURRIED SWEET POTATO APPLE SOUP
2 large (about 1 pound) sweet potatoes
1 large (about 8 ounces) tart apple (such as fuji, honeycrisp, or gala)
1 tablespoon olive oil
1 large onion, coarsely chopped (about 2 cups)
2 to 3 tablespoons curry powder
14 to 14-1/2 ounce can vegetable broth (about 1-3/4 cups)
1-3/4 cups unsweetened apple juice
3/4 teaspoon salt
6-ounce container plain low-fat yogurt
3/4 cup croutons, optional
Pierce sweet potatoes and apple with a fork, then microwave on high until apple is very tender, about 6 to 7 minutes. Remove apple; let cool. Continue cooking sweet potatoes about 4 to 5 more minutes.  Set aside and let cool.
In a large saucepan, heat oil over medium heat. Add onion and curry powder; stir until onion begins to brown, about 5 minutes. Add broth. Bring to a boil, reduce heat to low; simmer 5 minutes. Transfer to a food processor
Halve sweet potatoes and apple. Remove and discard apple core. Scoop sweet potato and apple pulp from skin and add to food processor. Add salt; whirl until smooth, while gradually adding apple juice through processor feed tube. Return to saucepan. Bring to a boil over medium heat; whisk in yogurt. Reheat just until hot, but do not boil. Serve soup topped with croutons, if desired.
Makes 4 servings
– Recipe and photo courtesy of North Carolina Sweet Potatoes