Do not miss a meal at La Cubita if you visit Trinidad in Cuba. It's decorated with quirky whimsical artwork and often offers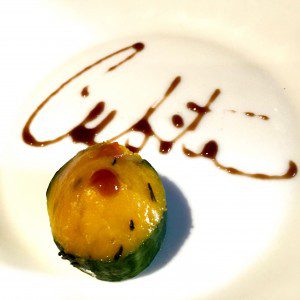 music while you eat.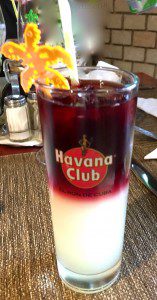 Once we placed our order, the restaurant sent out an amuse bouche that matched each of our orders. One of our four had ordered a vegetarian entree, resulting in a squash-based starter; the rest of us received a fish-mouse atop the cucumber cup. Nice touch that we enjoyed with their refreshing signature sangria ($9).
Meals in Trinidad certainly won't break the bank.
Each of ours came with a flavorful soup to start, bread and butter, sauteed veggies, rice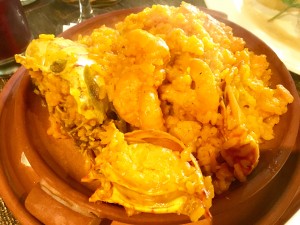 and a fresh tomato, beet, cucumber and string beans chilled salad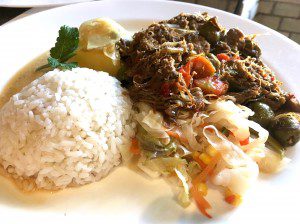 for $10 each! We sampled their seafood paella, shredded lamb, beef steak and the vegetarian entree. The latter was the only disappointment, as the veggies were neither varied nor flavorful.
Lunch is a better option than dinner, as for the latter you might find a line out the door. Worth the visit.
– bonnie
Follow @biteofthebest
BonnieBOTB
Follow @BonnieBOTB
Cubita
Trinidad
Maceo #471 E/Simon Bolivar | Y Francisco Javier Zerquera
Trinidad 62600, Cuba