Tribe Hummus  offers these simple suggestions for using hummus.
Hummus Dressing – Salad dressing can get boring quickly. Try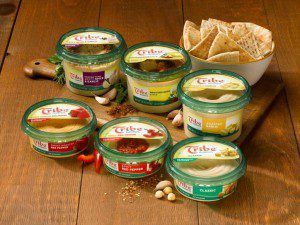 mixing 2 tbsp. of  Classic Hummus with extra virgin olive oil and lemon juice.  Sprinkle with some fresh cracked pepper.
Hummus Deviled Eggs – Instead of using mayo in your deviled egg filling mixture, use  Spicy Red Pepper Hummus providing a flavor-filled treat with fewer fat calories.

Stuffed Chicken with Hummus – For a fun twist on dinner, stuff your chicken cutlets with  Roasted Garlic Hummus and fresh spinach. Vegetarian? Substitute eggplant for the chicken!
Hummus Veggie Burger – Frozen veggie burgers make an easy weeknight dinner. For an added kick, spread  Roasted Garlic Hummus on a sandwich thin, and add fresh lettuce and tomato.
Veggie Parfait– In a small drinking glass, layer raw carrots, radishes, celery and bell peppers. In between each layer add a dollop of Classic Hummus. This easy creation will look great and taste even better!
Hummus-Filled Tomatoes – Core a tomato, leaving ¼-inch at the bottom. Create a mixture of Roasted Red Pepper Hummus, fresh herbs and crunchy celery for additional texture. Fill the tomato with the mixture and indulge in a healthy mid-day snack!
– guest contributor