"This recipe is a mash-up of two of my all-time favorite desserts" wrote Sara Moulton in her latest cookbook "Home Cooking 101."  …The Creamsicle (that unbeatable combo of vanilla ice cream and orange sherbet on a stick) and the pudding cake (the utterly seductive, if unlikely, concoction that is, as advertised, a pudding on the bottom and a cake on top).
I wanted a cake in which both the orange and vanilla flavors were booming. For the orange, both the juice and the zest are added. For the vanilla, I used a whole vanilla bean and scraped out its seeds. Yes, vanilla beans are expensive, but nothing else delivers such intense vanilla flavor. Besides you can re-use them. Just pop the scraped-out vanilla pod into your sugar canister and discover how quickly the sugar takes on the scent of vanilla.
CREAMSICLE PUDDING CAKE
1 cup fresh orange juice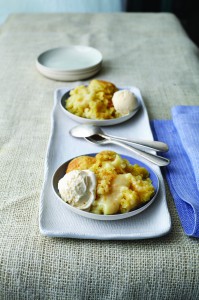 2 tablespoons freshly grated orange zest
1/2 cup heavy cream
4 tablespoons unsalted butter, melted, plus more for greasing the baking dish
1 tablespoon fresh lemon juice
Seeds from 11/2 vanilla beans or
11/2 tablespoons vanilla bean paste
120 grams (about 1 cup) unbleached all-purpose flour
1/2 cup sugar
2 teaspoons baking powder
1/4 teaspoon table salt
Vanilla ice cream as an accompaniment
Preheat the oven to 350°F. Lightly grease an 8-inch-square baking dish with butter.
Bring the orange juice and 1/4 cup water to a boil while you prepare the batter. In a small bowl, whisk together the zest, cream, melted butter, lemon juice, and vanilla bean seeds or paste.
Whisk together the flour, sugar, baking powder, and salt in a medium bowl. Add the cream mixture and stir just until combined. Transfer the batter (it will be quite stiff) to the prepared dish, smoothing the top with a rubber spatula. Set the baking dish on the middle shelf of the oven and carefully pour the boiling orange juice over the surface of the batter. (This may sound odd, but it's this mercurial.) Bake for 27 to 35 minutes, until the cake on top has a crisp golden surface and the pudding sauce on the bottom bubbles.
Spoon the pudding cake onto each of 6 plates and top each portion with a small scoop of ice cream. Serve immediately.
Makes 6 servings
Credit line: Excerpted from Sara Moulton's Home Cooking 101: How to Make Everything Taste Better by Sara Moulton. Copyright © 2016 Sara Moulton. Reprinted with permission from Oxmoor House, an imprint of Time Inc. Books. All rights reserved.

Save
Save