After picking up my friend Karen at Ontario Airport on our way to Camp Blogaway in Angelus Oaks, she convinced me to stop and shop at the high-end Cabazon Outlets to shop.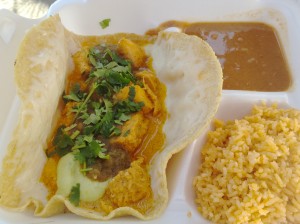 On the way out heading to the highway, we saw a small taco stand. We learned it was family owned place who made everything from scratch. We each indulged in a super taco with chicken ($6.50), with house made fresh corn tortillas, salsa and guacamole with tender chicken chile verde and cheese — served of course with rice and saucy beans.
A messy soul-satisfying meal not to be missed.
– bonnie
Crazy Coyote Tacos
13033 Fields Rd
Banning, CA 92220
(951) 849-2000