Owner Antonio Capelli greeted me as I arrived in December at Corte D'Aibo, a rustic farmhouse located in Monteveglio not far — a short 30 minute drive — from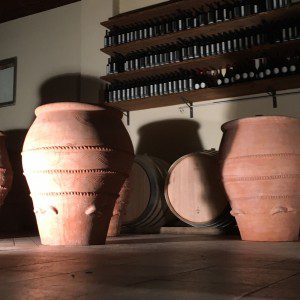 Bologna. Their rooms (only 12) are quite spacious with views of the organic vineyards and surrounding hills.
Each morning Louisa served me breakfast with yogurt, granola, fresh fruit and a tray of homemade cakes. Dinner at Corte D'Aibo was much more extensive with regional specialties and, of course, wine produced directly on the farm.
The night we dined together, we began with an aperitivo of fried bites plus sliced meats with some Pignoletto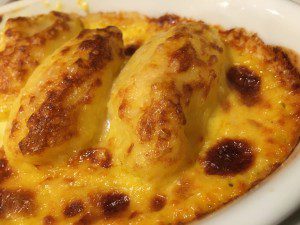 Doc Frizzante. After that a delicate homemade onion soup lightly topped with cheeses.
Next we savored three different pastas followed by two meat entrees (32 Euros). First a heavenly polenta in a creamy cheesey fonduta (my favorite)  and a classic fall dish of the area  tortelloni filled with pumpkin grown on the farm, sprinkled with shredded cheese and drizzled with balsamic vinegar. Our final pasta was small rigatoni with a bean and spicy salami ragù. I could have been happy with just the amazing pastas, but we then had two meat dishes, one a fatty pork blend with fresh sliced pumpkin and sauteed spinach; and a beef steak drizzled in gravy and served with potatoes and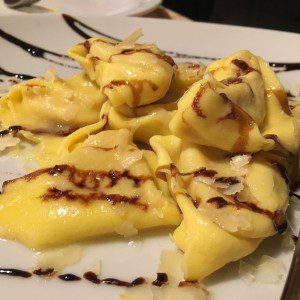 broccoli.
Lucky me, dining with the owner at  Corte D'Aibo, I also sampled five of his organic wines with the meal my favorite of which is his fragrant ruby red Orfeo, a 100% cabernet s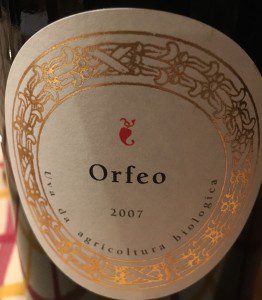 auvignon, that we sipped as we finished the dinner with soft cheese and pears soaked in Corte D'Aibo's Barbera.
If you're heading to the Emilia-Romagna region of Italy, I highly recommend a visit to this winery organic since Antonio purchased it with his partner in the 1980s — to either dine or better yet stay a couple days while discovering the area's richness.
– bonnie
BonnieBOTB
Follow @BonnieBOTB

Corte D'Aibo
Emilia-Romagna
Via Marzatore 15, 40050 Monteveglio
ITALY