The Cornelia Street Cafe in West Village is just around the corner from the Barrow Street Theatre, an off-Broadway theatre I've been frequenting. This time I had seen the powerful play Hit the Wall, about the gay turbulence in the late '60s.
We started with a perfect sharing portion of Moroccan hummus made from chick peas, roaste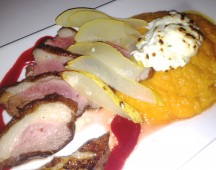 d red pepper, garlic and lemon —  served with toasted pita triangles, drizzled with a sweet pomegranate reduction and garnished with black olives ($11).
Cooked as ordered were the juicy flatiron steak with pommes frites ($24) and the duck breast with whipped sweet potatoes topped with a rich goat cheese gratin($24). Slightly overcooked was pork loin (missing the menu-described hazelnuts) with coconut-infused Jamsine rice topped with toasted coconut ($21).
The Ant Moore, estate Sauvignon Blanc, Marlborough, New Zealand, a cult wine,  worked well with each dish ($50) with its tropical and citrus fruit aromas. It's often describes it as an exotic Sancerre.
What was missing from each of our plates was something green, like a vegetable!
An okay place to stop if heading to the Barrow.
Cornelia Street Cafe
29 Cornelia Street
New York, NY 10014
(212) 989-9318