My friend raved about the cozy, rustic Cooper's Craft & Kitchen in the East Village, as he always hung out there when he brought his bicycle to a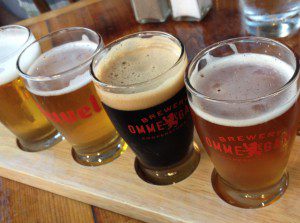 nearby shop for it's annual tune-up. I had to try it.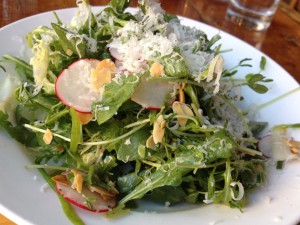 We selected the bargain flight of beers ($12) that gave us an opportunity to try many of their drafts. We drank their Victory golden honeytree IPA (Indian pale ale), Stout, Sixpoint crisp pilsner and the unusual Ballast habañero sculpin IPA.
As for food, their freshly made refreshing spring pea salad with pea shoots, fresh arugula, sliced toasted almonds, sliced radishes, shredded Perconino Romano in a very light lemon vinaigrette ($9) is not to be missed.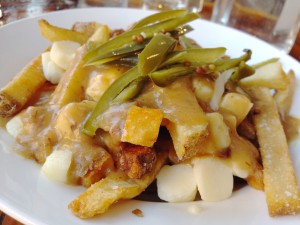 I had sampled poutine on a trip to Canada with no desire to eat it again. Hey, I enjoy my fries plain. But my dining buddy wanted to try Cooper's version of this classic dish of fries topped with cheddar curds, some bacon pieces, gooey gravy and pickled spicy chili slivers ($12). I ordered a separate order of plain fries ($4) plus three lightly fried fish tacos topped with shredded cabbage in small flour tortillas ($11).
Good innovative food, craft beer and friendly service in a warm bar-like setting. I recommend
– bonnie
Cooper's Craft & Kitchen
East Village
(Corner of 5th and Second)
87 2nd Ave (at 5th Street)
New York, NY 10003
(646) 606-2384