Community Plates, the technology-fueled, direct-transfer food rescue organization dedicated to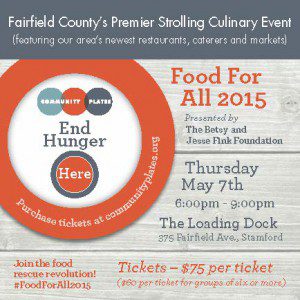 ending food insecurity in America, presents their signature fundraiser, "Food for All" on Thursday, May 7, 2015 from 6 to 9 p, at  The Loading Dock, 375 Fairfield Avenue, Stamford.
This is an event features Fairfield County's newest restaurants and artisans, in addition craft cocktail bars spearheaded by creative mixologists. The Dessert Café will feature sweet treats and libations.
Tickets are $75. To purchase tickets ($75) and find more information click here.