Gluten-Free Baking (Weldon Owen) — Kristine Kidd's just published eighth cookbook — features 80 tempting and tasty naturally gluten-free goodies, including these chocolate dipped coconut macaroons.
In addition to the recipes and 125 mouth-watering photos, Kristine's new book details how to set up a gluten-free pantry, and contains an ingredient primer and her baking tips!
Serve these delectable flourless morsels at your upcoming Passover Seder or Easter meal.
Coconut Macaroons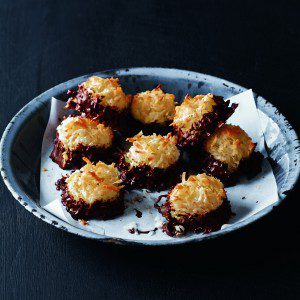 ¼ cup (2 oz/60g) unsalted butter, at room temperature
Pinch of kosher salt
6 tablespoons (3 oz/90 g) sugar
¼ teaspoon pure vanilla extract
¼ teaspoon almond extract
1 egg plus 1 egg white, at room temperature
12 oz (375 g) sweetened flaked coconut (3 firmly packed cups)
4 oz (125 g) bittersweet or semisweet chocolate, chopped (optional)
Preheat the oven to 325°F (165°C). Line 2 large rimmed baking sheets with parchment paper.
In a bowl of a stand mixer fitted with the paddle attachment, beat the butter and salt until smooth, about 2 minutes. Add the sugar and beat until well blended, about 2 minutes. Beat in the vanilla and almond extracts just until incorporated. Beat in the egg and then the egg white, beating until each one is incorporated. Mix in the coconut.
Drop the batter by rounded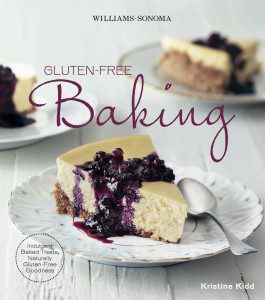 tablespoons onto the prepared baking sheets, spacing them about 11⁄2 inches (4 cm) apart 
and mounding them slightly with the spoon. Using damp fingers, gently press any loose coconut into the mounds.
Bake the macaroons, 1 sheet at a time, until golden brown, about 20 minutes. Let the cookies cool completely on the baking sheets on wire racks.
To dip the macaroons in chocolate, if desired, line a baking sheet with waxed paper. Place the chocolate in the top 
of a double boiler over barely simmering water. Heat, stirring often, until melted and smooth. Remove from over the water and set aside to cool slightly. One at
a time, dip the bottom of each macaroon in the melted chocolate. Place the macaroon, chocolate side down, on the waxed paper. Repeat with the remaining macaroons. Refrigerate until the chocolate is set, about 45 minutes.
Store the undipped macaroons in an airtight container at room temperature up to 5 days. Store the chocolate-dipped macaroons in an airtight container in the refrigerator.
Makes 2 dozen cookie
Recipe reprinted with permission from Gluten-Free Baking, by Kristine Kidd, Weldon Owen 2014
Photograph courtesy of Annabelle Breakey/Weldon Owen