In our interview with François Payard last month, he offered this recipe from his newly released "Payard Cookies" for the holidays, Passover and for friends how require gluten-free treats.
– bonnie
This is a different type of financier, which doesn't include almond flour or even all-purpose flour. Instead, it is made with unsweetened coconut and comes closer to a macaroon. You will need to spoon the batter into the financier molds or mini muffin pans, since the coconut would get stuck in the tip of a piping bag. Be careful that no coconut flakes stick up from the mold or they will darken much faster than the batter will bake.
Coconut Financiers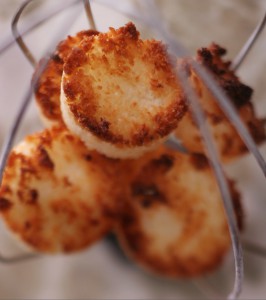 ¼ cup plus 3 tablespoons (100 grams) whole milk
½ cup (100 grams) granulated sugar
2 cups (150 grams) unsweetened desiccated coconut
2 large eggs
Heat the milk in a medium saucepan over medium heat. Add the sugar and whisk until it has dissolved. Remove from the heat. Whisk in the coconut, then the eggs one at a time.
Preheat the oven to 350°F (175°C). Spray a silicone financier mold with nonstick cooking spray or line a mini muffin pan with paper baking cups. If using a silicone mold, place it on a baking sheet.
Spoon just enough of the batter into the individual molds or muffin cups to fill them three-quarters full. Push down any coconut flakes that stick up and flatten the top of the batter in each mold cavity. Bake for 12 to 15 minutes, or until the financiers are light golden brown. Remove from the oven, let them cool completely in the mold, then serve or store them in an airtight container in a cool, dry place for up to 2 days.
Makes 20 to 25 financiers
Excerpt & photo from Payard Cookies by Francois Payard. Copyright © 2015 by Francois Payard.Photography © 2015 by Rogerio Voltan. Reprinted by permission of Houghton Mifflin Harcourt Publishing Company. All rights reserved.