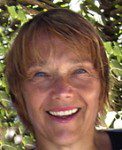 Bonnie: We do love our cheese, especially fresh chèvre. Today's feature is about Coach Farm Fresh Goat Cheese with figs.
I've been in love with Coach Farm's chèvre since my first bite of its fresh goat cheese back in the '80s. That's when the company began making cheese in a small Hudson Valley (New York) town, just two hours from New York City. The company boasts more than 900 dairy goats, born and raised on its farm.
And to answer the question always asked: Yes, the name "Coach Farm" is related to the Coach Inc., known for quality leather goods. When the owners sold their leather company and moved to the country, they started making cheese, which is now found in cheese stores and restaurants around the nation.
This new Coach Farm's filled fresh cheese is "wetter" than most – but irresistibly yummy.  The company keeps the time between milking and wrapping as minimal as possible – leaving little time to "dry" the cheese.  In fact, most of its fresh cheese is made and packaged within three days of milking, thereby preserving the delicate flavors in the fresh milk.
I've served this fresh fruit-filled cheese on cheese platters, and it's always the first to disappear. It's truly addicting. I like both the fig and pear versions.

Bryan: Figs and goat cheese… Can you think of a better combination of flavors? This combo has to be the perfect example of sweet and savory goodness; it is a product that makes my mouth water even as I type right now. Coach Farm's new offering wonderfully pairs the subtle barnyard creaminess of fresh goat cheese with beautiful, ripe, delicious figs. This is good eating at its very best!
As with almost any cheese (especially fresh and spreadable), my first thought was to try it on its own, just to eat and enjoy. Simply spread it on some crusty bread and enjoy it with a bottle of wine (white or red, it doesn't matter). This product is simply amazing all on its own; it really doesn't need any help from other ingredients. Then I started thinking: Why not use the cheese a little more inventively? Hey, I grew up working in restaurants. I can do this! So I went with it, creating a new dish all my own.
My first experiment was, of course, just to taste it. Creamy, delicious, and just a hint of sweetness from the figs. This is goat-cheese perfection. I then thought about what I could enhance, but not overpower, with this fantastic cheese. So, I grilled up some chicken breasts and got a bit creative. Pairing the chicken with quinoa and asparagus, I wanted to bring the main focus to another level. After cooking the chicken about 3/4 through on the grill I took it off and spread a nice portion of the cheese atop each breast. I then covered the layer of cheese with some thinly sliced apples and finished it off in the oven. It was the perfect first use! I could not believe how Coach Farm's goat cheese turned a simple chicken breast into a gourmet meal.
Coach Farm uses traditional French cheese-making methods on a small Hudson Valley farm, bringing you a little taste of France here in the USA. It's amazing to think that its headquarters is just two hours outside New York City! The company uses more than 900 French Alpine dairy goats, born and raised on its farm, in order to produce its award-winning cheeses. Coach Farm cheeses are served in many of New York's three- and four-star restaurants, with orders shipped directly from the farm. Fresh cheeses from Coach Farm often arrive within days of the actual milking process. That is truly fresh! Its online store now allows the casual cheese consumer to access what was once only available to restaurants. So enjoy… and get inventive!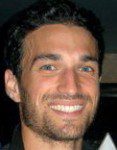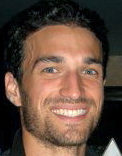 Eric: I've always been a glutton for combining fresh goat cheese (fromage de chèvre) with dried fruits: My favorite combination is using dried cherries. There is something incredibly sumptuous about the tart flavor and almost candyesque texture of the cherry paired with the creaminess of the cheese that leaves your palette salivating for more; and that's only one flavorful combination.
Coach Farm has always (at least since the '80's) been synonymous with high-quality goat cheese — that perfect combination of creaminess and flavor. Its most recent attempt at cornering the market of delectable cheeses came in the form of "Farm Fresh Goat Cheese with Fig." I refer to the cheese as an upscale Fig Newton, especially when spread on a cracker, but reality dictates that this cheese is much more than a simple comparison to a generic cookie.
Coach Farm was not messing around when it created this pairing, and neither should consumers when they indulge. Pop the bottle of wine (or start making your summer sangria) and bask in the sun while enjoying the intricate simplicity of Coach Farm Fresh Goat Cheese with Fig.