Just in time for your holiday meal, this Moroccan recipe for sweet potatoes comes from Claire Criscuolo of Claire's Corner Copia, a nationally acclaimed vegetarian restaurant in the heart of downtown New Haven.
This healthful recipe is a great way to kick off the fall season as it's loaded with beta-carotine and fiber.
Moroccan Sweet Potatoes
Chef Claire Criscuolo, of Claire's Corner Copia, New Haven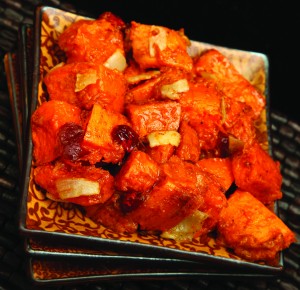 6 medium sweet potatoes, cut into 1-inch cubes
3 medium carrots, cut on the diagonal into ½ inch slices
1 large yellow onion, slice into ¼-inch rings
¼ cup olive oil
1 teaspoon cinnamon
¼ cup brown sugar
1 tablespoon vanilla extract
¼ cup golden raisins
Salt and black pepper to taste
1/3 cup water
16-ounce can chickpeas
¼ cup chopped walnuts
Preheat the oven to 400 degrees. In a large bowl, combine the sweet potatoes, carrots, onion, olive oil, cinnamon, brown sugar, vanilla extract and raisins
Sprinkle lightly with salt and pepper; toss well.
Pour the water into a rectangular glass baking dish. Turn the potato mixture into the dish, cver tightly with foil and bake for 1 hour.
Remove the foil and stir in the chickpeas and walnuts, continue cooking, uncovered, for 10 minutes, until the potatoes are tender.
Makes 6 serving.