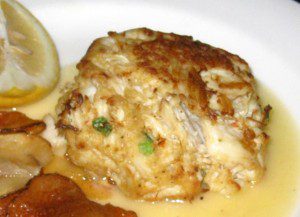 We walked in the door 10 minutes before closing — we weren't interested in dining, per se, but just wanted some decent fresh food. We were welcomed, as they began to empty the huge cases filled with an array of the freshest seafood I'd seen in some time.
Needing just a nibble, we ordered a Ceasar salad – fresh but over dressed and  their crab cake (full of crab with so little filler, it almost fell apart).  Perfection (other than the buttery sauce City Fish served with it).
Next time I'm in Boca, I'll leave more time to experience City Fish Market's full menu as this just whet my appetite.
City Fish Market
7940 Glades Rd
Boca Raton, FL 33434
www.buckheadrestaurants.com
(561) 487-1600