This recipe for Salat af rå tern (Chopped Winter Salad) comes from Guest Foodie Darra Goldstein's Fire + Ice: Classic Nordic Cooking.
She writes, "This Danish salad, is an antidote to winter—bright, crisp, and filled with vitamins. The Danes use rapeseed (canola) oil for most of their cooking, but I like to add a little olive oil to enhance the salad's fruity notes. Good cider vinegar is also a must—make sure you don't use one that is simply "cider flavored." Although dicing the vegetables by hand may seem a little tedious in this era of the food processor, it only takes a few minutes and yields a better texture. The small size of the chunks allows the salad to cohere. Feel free to play around with the proportions of vegetables.
– bonnie
BonnieBOTB
Follow @BonnieBOTB//  
Salat af rå tern (Chopped Winter Salad)
Granny Smith (8 ounces), diced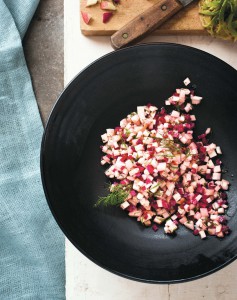 6 ounces celery root, peeled and diced
1 small red or yellow beet (about 3 ounces), peeled and diced
4 teaspoons cider vinegar
11⁄2 teaspoons Dijon mustard
1 small clove garlic, minced
1⁄4 teaspoon salt
Freshly ground pepper
2 tablespoons canola oil
2 tablespoons olive oil
1 to 2 tablespoons minced fresh parsley
1 to 2 tablespoons minced fresh dill
Stir together the apple, celery root, and beet in a bowl. In another bowl, stir together the vinegar, mustard, garlic, and salt. Season with pepper, then gradually whisk in the oils until an emulsion forms.
Pour the dressing over the vegetables and stir in parsley and dill to taste until everything is well combined, and the salad is ready to serve.
Makes 4 servings
CREDIT: Reprinted with permission from Fire + Ice: Classic Nordic Cooking, by Darra Goldstein, copyright © 2015, published by Ten Speed Press, an imprint of Penguin Random House LLC.
Photographs copyright © 2015 by Stefan Wettainen