After seeing my friend's work at the 12 x 12 exhibit at the Carter Burton Gallery on West 28th, we walked downtown a couple blocks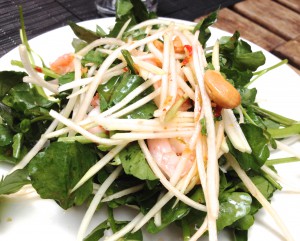 to Chop Shop, a local restaurant offering Chinese and Southeast Asian street fare.
Don't miss the salad of julienned green papaya, watercress, shrimp and cashews in a spicy refreshing dressing so good I wanted to drink it ($10). I would have preferred though that the kitchen removed of some of the watercress stems, as I kept splashing my face with the dressing while using my chop sticks to eat the stalks.
Their spicy drunken ($13) wide flat rice noodles — a dish similar to the Thai pad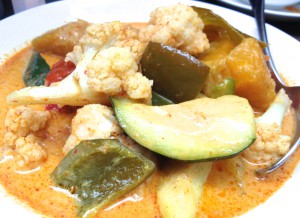 see ew — contained Chinese broccoli, bok choy and chicken in a sauce, a little sweet yet not spicy enough for my tastes. I tried to enliven with used some of chili oil and Sriracha that our waiter had brought for us.
The Chop Shop happily accommodated our request to alter the composition of the vegetable Penang curry, leaving out the eggplant and tofu, and adding more of the remaining veggies. The result? A good to the last drop blend of yellow squash, cauliflower, zucchini and peppers with white rice. Don't miss this curry's perfect blend of ingredients that just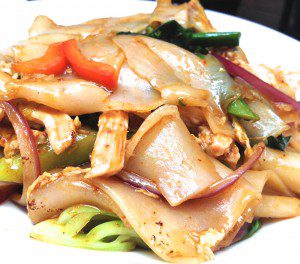 danced in my mouth!
We turned back the fried Sichuan orange beef ($18) as it was so overcooked the meat was more like jerky. Our friendly waiter Brian happily replaced it with the marinated flank steak ($14) cooked medium rare as we requested, accompanied by — not the menu-stated chop show slaw – but by an unremarkable salad.
We washed it all down with the medium-bodied balanced Spanish Tempranillo, Vina Bujanda '10 Rioja ($38).
The berries with ginger gelato ($7) offers a light ending. The winning flavor is  the unusual black sesame ice cream, tasting exactly like it's namesake — although it's so rich, you can only eat one spoonful.
I'll return to Chop Shop to order the salad and curry again, but don't know whether I'll go to this location or their newest flat-iron one at 41 W. 24th Street.
– bonnie
Chop-Shop
Chelsea
254 10th Ave,
New York, NY 10001
(212) 820-0333