On a Zoom call recently, someone mentioned baked ziti, which sparked memories of what Connecticut soccer moms' served when feeding a huge crowd of players and parents. That thought inspired me to create this recipe.
Baked ziti can be quite forgiving, allowing you to vary the kind and quantity of ingredients. For this version, I cook the pasta in the sauce, lessening the cleanup.  If you have a large enough oven-proof skillet to fit all the ingredients — with space for the pasta to expand — use that. If not, use a 9 x 13-inch pan.
For meat, I used the ground pork and andouille purchased at Union Square Farmers' Market. Use whatever meat or poultry, ground preferred, you have or add none.
For the tomato sauce, I used some leftover pasta sauce. You could use diced fresh tomatoes with their juice or any canned tomato product on your shelf.
For the seasoning, decide on your flavor profile. Classic would be Italian, using oregano, parsley, rosemary, basil, thyme and/or sage. Or, go rogue. Use Greek flavorings (lemon, oregano), French (thyme) or Mexican (cumin, chile). The latter is what I chose as I had fresh cilantro growing on my windowsill and jalapeno Jack in the fridge.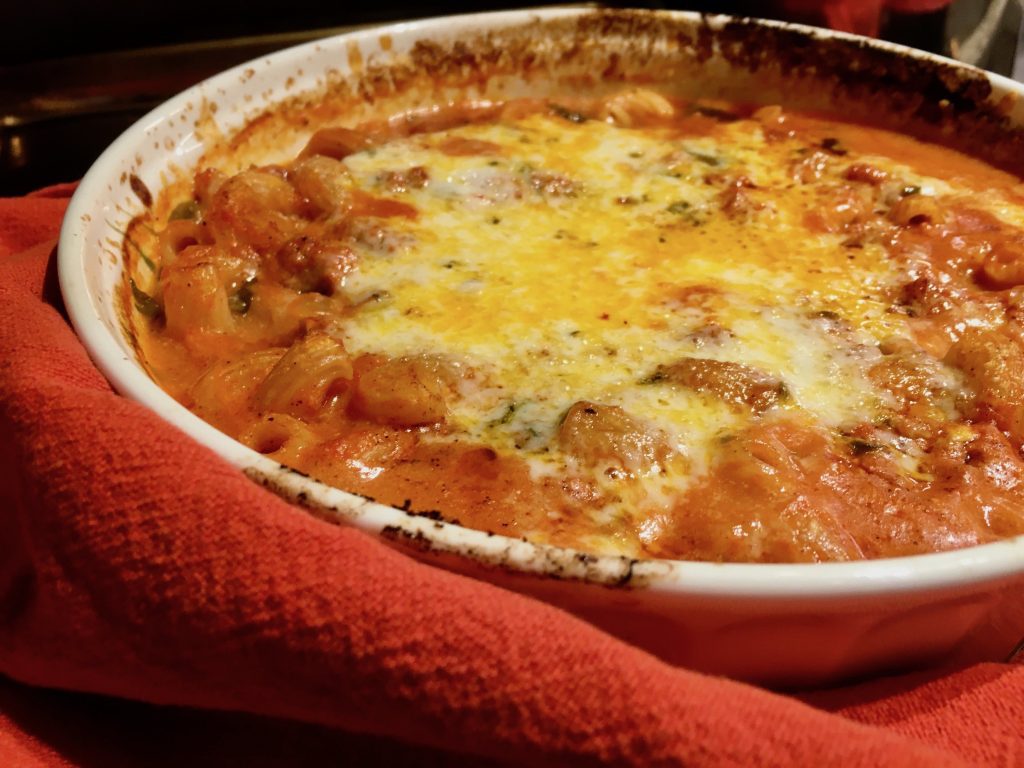 Macaroni Bake, AKA Baked Ziti 
Makes 6 to 8 servings
1 tablespoon olive oil
1 small onion, chopped
2 cloves garlic, minced (optional)
½ pound ground meat (I used a combo of pork and diced andouille)
2 cups tomato sauce (pasta sauce, canned or fresh tomatoes with juice)
Salt
Freshly ground black pepper
Seasonings**
2 cups water
1/2 cup fresh ricotta cheese, Cloumage or cottage cheese
1 heaping tablespoon or more grated Parmesan cheese
2 cups uncooked ziti or hollow, straw-shaped pasta (I used cavatappi, a helical tube-shaped macaroni)
¾ cup shredded mozzarella or other cheese (I used jalapeño Jack)
Preheat oven to 400 degrees F.
Heat oil in a large ovenproof skillet over medium heat. Add onion and cook until translucent about 5 minutes. If using garlic, add and cook 1 minute more. Season with salt and freshly ground pepper (**plus a teaspoon or two of whichever seasonings you choose. I used 1/4 teaspoon cayenne, 1/2 teaspoon of ground cumin plus 1 teaspoon of chili powder.)
Increase heat to medium-high, add "meat" and heat until cooked through. If necessary — depending on the meat used — drain and discard excess fat.
In either the skillet or 9 x 13 pan, combine the seasoned tomato sauce, 2 cups water, ricotta and Parmesan. Stir in the uncooked pasta and mix well Cover tightly with aluminum foil. Bake 55 minutes.
Remove foil and sprinkle with grated cheese. Bake uncovered an additional 5 minutes. Let stand 10 minutes before serving.