Ritz-Carlton's Wine Director, Marika Vida-Arnold  has paired wine from wineries lead by iconic women in wine, with pralinés, orange sticks and ganache created by Pastry Chef Stephanie Grajales. Some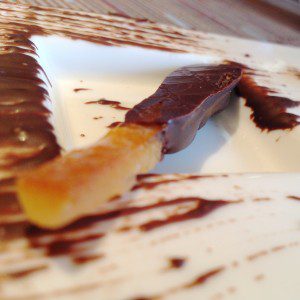 sample pairings of  "Chocolate takes Flight" with a feminine touch include:
Dark Chocolate Ganache Infused with Fresh Mint, Lauverjat Sancerre Winemaker: Karine Lauverjat
Dark Chocolate Orange Peel, Dobogó Tokaji Aszu Winery Owner: Izabella Swack
Belle Femme Praliné, Veuve Clicquot Demi Sec Homage to Madame Clicquot Ponsardin
These pairing are offered in flights of three for $45 per person beginning on February 9th through February 15th in the Star Lounge at The Ritz-Carlton New York, Central Park.
For more information, call 212-521-6125.
A percentage of the proceeds will go to Les Dames D'Escoffier New York, an invitational volunteer organization comprised of women of achievement in the food, fine beverage and hospitality professions, whose mission is to help inspire, empower and mentor women and to enable them to pursue careers in the culinary and hospitality professions through higher education.