This recipe comes from my book "365 Great Cookies and Brownies."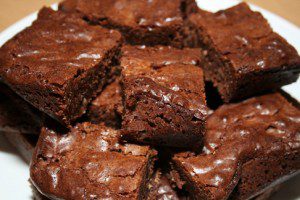 In a previous bite, I told the story of how I came to make these treats. They're a family favorite.
To make Chocolate Mint Mania Bars, melt 4 ounces unsweetened chocolate and 1 1/2 sticks (6 ounces) butter. Stir in 2 cups sugar, 4 eggs (one at a time), 2 teaspoons vanilla and 1/2 teaspoon peppermint extract. Mix in 1 cup flour, 1 teaspoon baking powder and 1/2 teaspoon salt. Stir in 2 cups chocolate chips. Bake in a greased 9×13 pan in a 350-degree F. oven for 20 to 25 minutes.
– bonnie