In a newsletter I received from Kardea Gourmet recently, I saw this simple recipe for chimichurri — an herb-oil sauce to add flavor to foods used widely in Argentina. Thought I'd share it!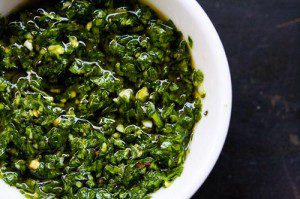 Traditionally it's used for grilled meats — especially steak, but you can also use it on vegetables and fish, as a garnish to soups or hummus, and to moisten sandwiches.
Quick to make, stores up to five days, and adds zest to any meal.
Chimichurri
1 bunch cilantro or parsley, well rinsed
4 cloves garlic, chopped
1/2 c extra virgin olive oil
1⁄3 c sherry wine vinegar (or any other)
1⁄4 c water
Finely chop cilantro, then add the rest of the ingredients. Store in the refrigerator in a sealed container.
Makes about 24 1-teaspoon servings, about 40 calories each