Earlier this month when I interviewed Michael Anthony, I requested a recipe from his "Gramercy Tavern Cookbook" to share. If you've ever dined at Gramercy Tavern — or the new Untitled — you know that your dish comes amazingly garnished, as in this recipe.
If you don't have time for making the entire garnish, I suggest just use the seasoned tomatoes and radish — or just sprinkle it with cooked fresh corn kernels.
– bonnie
"This soup, which can also be served hot, is wonderful made with water, but if you have a little extra time, it's far better with corn broth. Not only does the broth enhance the flavor, but it gets the most out of the fresh corn, so nothing goes to waste. Simply put the stripped cobs in a large pot with some chopped onions, carrots, celery, and garlic, cover with water, and bring to a boil, then reduce the heat, let it simmer for about 30 minutes, and strain. If you have some left over, you can use corn broth for many other things: making polenta, braising vegetables, or whenever you need a vegetable broth."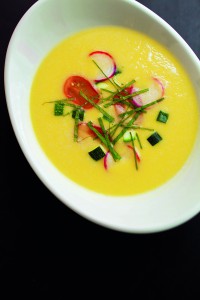 Chilled Corn Soup
Soup
2 tablespoons olive oil
3 shallots, thinly sliced
2 garlic cloves, thinly sliced
1 leek (white and pale green parts), halved lengthwise and thinly sliced
8 cups corn kernels (from about 16 ears)
Salt and pepper
1 teaspoon honey
6 cups water or corn broth
Fresh lime juice
Garnish
1 teaspoon olive oil
1⁄2 cup corn kernels (from about 1 ear)
1⁄2 cup finely diced zucchini
Salt and pepper
12 cherry tomatoes, halved
1 radish, very thinly sliced
Extra-virgin olive oil
2 shiso leaves, julienned (optional)
Make the soup. In a large pot, heat the olive oil over medium-low heat. Add the shallots, garlic, and leek and cook, stirring often, until the leek is softened, about 6 minutes. Add the corn kernels, season with salt and pepper, and stir for 2 minutes. Add the honey and water or corn broth, bring to a simmer, and cook until the corn kernels are just tender, about 3 minutes.
Transfer the solids to a blender in batches and process until very smooth and creamy, adding enough of the liquid to the blender to achieve a thin consistency. Pass the soup through a fine-mesh strainer into a container. Season with salt, pepper, and lime juice, then cover and refrigerate. Reserve any remaining liquid. (The soup will likely thicken as it chills, so thin with a bit of the reserved liquid or water.)
Just before serving, prepare the garnish. In a small skillet, heat the olive oil over medium heat. Add the corn and zucchini and cook until just crisp-tender, about 3 minutes. Season with salt and pepper.
In a small bowl, season the tomatoes and radish with extra-virgin olive oil, salt, and pepper. Ladle the soup into bowls and top with the corn mixture and the tomatoes and radishes. Sprinkle with shiso leaves, if you like.
Serves 4 to 6