This recipe is © Copyright Nina Simonds "Simple Asian Meals" 2012, who's is this week's Guest Foodie.
Chicken Noodle Salad with Spicy Tahini Dressing
3 ¾ ounces cellophane noodles, covered in boiling water for 10 minutes
2 English seedless cucumbers, cut in half lengthwise
2 cups shredded or grated carrots
2 cups bean sprouts, rinse and drained
1 pound cooked boneless, skinless chicken breasts, cut into thin, julienne strips
3 scallions, green parts only, cut into ½-inch lengths
Spicy Tahini Dressing: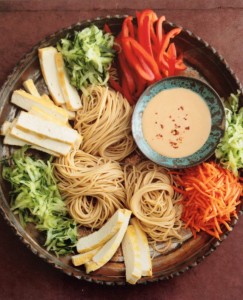 1 cup sesame tahini paste
10 tablespoons water
¼ cup toasted sesame oil
¼ cup soy sauce
3 tablespoons rice wine or sake
¼ cup sugar
¼ cup minced fresh ginger
3 tablespoons minced garlic
1 ½ cups hot chili paste, or to taste
Bring 3 quarts water to a boil in a large pot. Drain the soaked cellophane noodles and add to the pot. Cook for about 1 minute, until tender. Drain in a colander and rinse under cold, running water. Drain thoroughly.
Scoop out any seeds from the cucumber with a spoon, then grate or shred the cucumber, using the shredding blade of a food processor. Using your hands, squeeze out the liquid.
Arrange the cellophane noodles in a large serving bowl. Arrange the carrots, cucumbers, and bean sprouts in concentric circles on top of the noodles, leaving a space in the middle. Arrange the chicken in the center. Sprinkle the scallion greens on top.
To make the Spicy Tahini Dressing: Combine the ingredients in a blender or the bowl of a food processor fitted with a steel blade and blend thoroughly. Taste for seasoning, adjusting if necessary. Drizzle a little of the dressing on top of the salad and serve the remainder in a bowl on the side. Serve the salad at room temperature or chilled.
Makes 6 servings.
Photo credit: Romulo Yanes