The first stop on the Slow Food restaurant tour during Sneak Peek Week was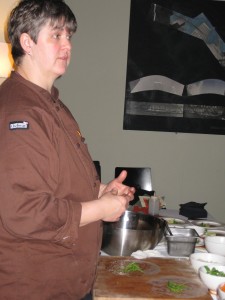 at Zinc (964 Chapel Street, New Haven). Denise — a fan of Vietnamese-inspired cooking — demoed her Market Vegetable Rice Paper Rolls with a Peanut Sauce.
Denise changes the ingredients for the rolls depending on the season. For this winter demo, she used julienned blanched snow peas, water chestnuts and carrots, rolled those veggies inside rice paper along with a spicy cooked shrimp (cut in half through the middle) and mache, and served with a peanut sauce. (For another version of her recipe, click here.)
Denise softened the rice paper sheets in warm water to soften them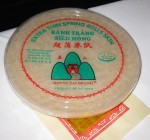 for a minute, placed the above ingredients on the sheets, then enclosed the filling, by rolling the ingredients into the paper, then folding up the bottom.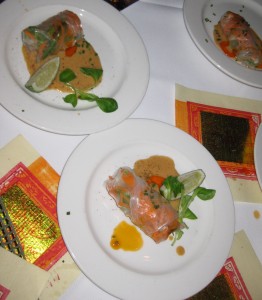 For Denise's peanut sauce, toast 1 teaspoon crushed red pepper in a saucepan for 1 minute over medium heat; add 6 T peanut oil, 3 T rice vinegar, 2 T thinly sliced lemon grass, 2 T sugar, 1 T minced ginger, 1T minced garlic and ¼ cup toasted peanuts; heat just to a quick boil. Remove from heat; pour into a blender; add 1/4 cup water and the zest and juice from 2 limes; blend. Add 1/4 cup toasted peanuts and use as a dipping sauce.
Zinc, 964 Chapel Street, New Haven, 203.624.0507