For our visit, Chadwick Boyd whipped up a batch of biscuits and served them warm with salted butter and grapefruit-thyme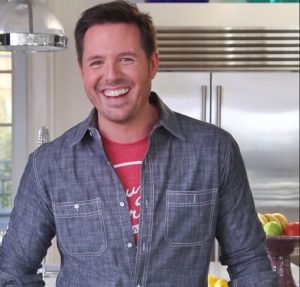 jam. This month, you can catch him making these quick breads on the big (AKA movie) screen in "Reel Food," his 4-minute cooking and entertaining segment that precedes the trailers in many theaters nationwide. Screenvision Media launched this series last fall, with each episode running a 4-week cycle. They've already commissioned Chadwick through June. Smart idea for sure, encouraging moviegoers to get there early enough to catch the pre-entertainment show.
While spreading some jam on the tender biscuits, I learned that Chadwick helps organize International Biscuit Festival. How fitting, I thought! He also contributes to Serious Eats, TODAY.com, Huffington Post and TheKitchn.com, and is often featured in House Beautiful, Redbook, Yahoo! Food, Southern Living and Better Homes and Gardens sharing food, recipes and entertaining tips. In fact, the April issue of Better Homes & Gardens (now on stands) features five of Chadwick's asparagus recipes — including a ribbon salad, spears roasted with salmon and battered asparagus & ham hoagies.
To help raise money for his grandmother's church, he put together a recipe collection "Entertaining with Vegetables" with a forward by Natalie Dupree. That booklet is available on Amazon.
– bonnie
BonnieBOTB
Follow @BonnieBOTB
Which food product or gadget would you never give up? I would never give up my French press. It is part of my daily ritual just as much as brushing my teeth. I love everything about the whole process – the cracking open of the bag of fragrant coffee beans, the heaping five tablespoons scooped with my Grandma Clara's measuring spoon, the swirling of the steaming hot water, and the stirring with my favorite olive wood spoon. It's so calming and comforting to me. I cannot imagine not doing this in the morning.
What do you like to serve when you entertain? I love to entertain. I am not formal by any stretch, but I am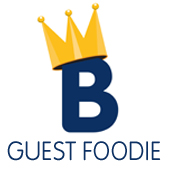 particular about the details. My favorite way to entertain is family style. There's no better way to get people to engage and interact than having them pass plates of delicious food around the table.
I like to do things that get people talking – whether it's using a special ingredient or cook a particular food a new way that surprises and delights people. For example, I love to roast red or white grapes before putting them on a cheese board…or in the summer, I like to grill rock hard avocados from the grocery store and serve them with salsa rather than guacamole.
I also like to get people involved and vested in the evening. Typically, I put my friends who are into spirits and cocktails in charge of creating a signature drink. This gets people mingling and warmed up while I am finishing up dishes in the kitchen. I also create playlists specific to the gathering so that the music becomes a key element in the evening. My rule of thumb is one song tied directly to the theme of the night, like "love" for Valentine's Day or "biscuits" for a biscuit exchange; one song that is brand new that people probably haven't yet heard of on the radio; and one oldie but goodie, like an 80s anthem or Motown hit. Creating a playlist using this pattern almost assuredly gets people grooving and in the mood. It gets them asking, "Hey who is this? I like it!" I then send them the playlist as a "thank you" for coming.
For the meal, I do one main entrée, like a lamb leg roasted in cast iron and slathered with a greens garlic pesto or a few chickens roasted with coconut oil, sriracha and cilantro. I pair it with one big platter of a cooked vegetables, such as skillet radishes with crispy prosciutto and greens, and one big starch like cumin-roasted Yukon and sweets with lime and rosemary. I also like to slice up a fresh fruit very thin, such as apple, on a plate and drizzle with honey with sage and black pepper – it's a nice fresh bite. For dessert, I like to keep it simple and serve grilled pears with ice cream and cardamom honey or something not very sweet, yet comforting.
Describe your "last meal?" For my last meal, I probably would aim to be nostalgic rather than fancy or decadent. I would choose the cheesy grits casserole with sausage that I made for my Grandma Clara and Grandpa Frank as my main dish. On the side, I would have buttery flaky scones served with marionberry jam – they're a Christmas time tradition for me and my mama. For dessert, I would definitely have a big wedge of my great-grandmother Zella's flaky lard-crust coconut custard pie.
I might just have to have Sean Brock's fried chicken skins from Husk too because they are just so freaking amazing and addictive, and I hear my friend Jennifer Cole's infectious laugh whenever I eat them, which makes me giggle and smile.
What food is your secret guilty pleasure? The one thing that I have to ration myself with are peanut butter filled pretzels. Grocery stores sell them in big containers and like to place them right as you walk into the store – at eye level(!). For me, they are like crack. And a treat. When I want something salty and crunchy and peanut buttery, these are my jam.
What is your go-to neighborhood restaurant? In Atlanta, it's Todd Ginsburg's The General Muir. Modern Jewish deli food served in a bright open space. I dream about the crispy thick strips of the black pepper pastrami.
In NYC, it's Upland. It's consistently fantastic no matter what time of day I go there – brunch, lunch, dinner and later night. Justin Smillie's food is fresh, textured and colorful, and every detail is paid attention to. The service is always warm and welcoming, which makes me feel at ease and at home. I just love it.
What is one food product most people don't know about, but should? I love Urban Oven Rosemary Parmesan crackers. I have been using them for years. I wish they were more well known – and I wish their packaging were better so they would stand out on the shelves. The crackers are wonderfully thick and a bit dense, which means they won't break apart when you place a juicy shrimp on them or a drizzle with lemon or other finishing oil. My favorite thing to do with them is lay thick shaves of pecorino on top and dollop with stewed figs with fresh rosemary. YUM.
Mike's Hot Honey is my secret weapon in the kitchen. The Brooklyn made honey infused with chilies is fabulous drizzled over a wheel of triple cream brie. A few squirts are also phenomenal on sausage cheese pizza.
Describe your worst kitchen disaster and how (if possible) you saved it: I'm not sure I have a "worst" because my Grandma taught me there are never mistakes in the kitchen, but one thing pops in my head. I was co-hosting a baby shower for my friends Michael and Stephen. I was in charge of making the food, except the pink-glittered frosted cupcakes. Just as the cupcakes were being delivered, the frosted tops got slammed into their boxes and were a total mess. Thanks to my years of cake decorating as a kid, I sprang into action, re-whipped the icing and piped the frosting back on. The cupcakes were in their featured spot two minutes before the first shower guest arrived. PHEW!
Who was your most influential mentor? I am fortunate to have had several mentors in my life…in various areas of expertise, and yet I have a Top 3.
My Grandpa Frank who taught me the value of a firm handshake and finishing what I started no matter what.
My Grandma Clara who espoused there are no mistakes in the kitchen and to be a champion for home cooks.
Mrs. Deale, my first through sixth grade librarian, who taught me that all books could be studied, including the Betty Crocker Boys and Girls Cook Book.
Describe an event that changed/redirected your career. Undoubtedly, taking care of my Grandma and Grandpa in the last years of their lives changed my life forever. They were my greatest teachers…and the ones who showed me how to bring joy to people through food…and most importantly why. In healing from their deaths, I got crystal clear on my life's purpose, which is to change the world for good through food and words. That is my mantra that I state every single day.
To follow Chadwick Boyd on Twitter click here,  for Instagram click here and for Facebook click here. Photo credit: Laura Fuchs
Save
Save
Save
Save
Save
Save
Save
Save