Standing outside Santa Isabel 376 in Miraflores, we met a young man in his 20s who had just flown in from Taiwan to also experience the food of Virgilio Martinez Véliz. I had read and heard about Central as it is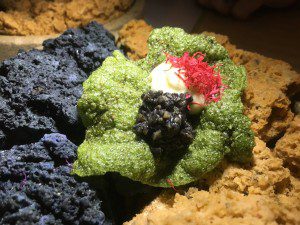 on many best restaurant lists. He had too.
Few meals I've had rival this one.
Backing up. When we made our reservation four months in advance, we had to select our menu — regular or vegetarian? full 17-course tasting menu or abbreviated 11-course one?  Since our dinner was the day we arrived in Lima, we opted for the abbreviated version of the "Mater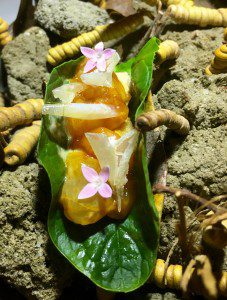 Ecosystems" (~$115), the inspiration for the menu and presentation.
As we sat down, we were given a listing of our courses with a number off to the side; weird numbers not pricing. I learned that the number indicated the altitude of the "mater" (ingredients) in the ecosystem. We were a tad confused by our first course until the waiter explained that the "rock molluscs" and the lava rocks the chip was sitting atop all came from -10 meters below sea level. This crisp and its toppings were made from seaweed, snails and mussels with a flavor balance so perfect they danced in my mouth.
The courses continued to amaze being served atop "matter" that would be found in the ecosystem. This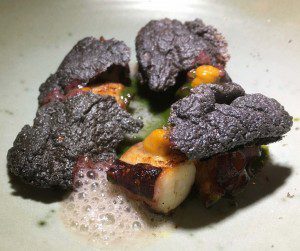 included butter-filled crispy olluco (a type of potato) and onion patty  Amazon river fish served in an edible leaf and octopus with crab and squid. The sea urchin with pepino melon, razor clams and seaweed looked so much like art, it took me a minute to decide to dig in.
Not only was each course an example of paying attention to details, each component burst with flavor.
This meal was so good and served without pretension, I'd recommend jumping on a plane to Lima to dine at Central.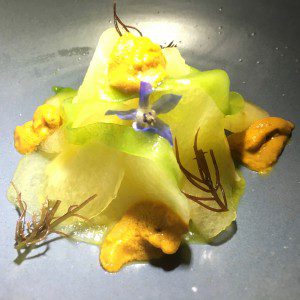 – bonnie
BonnieBOTB
Follow @BonnieBOTB
Central
Santa Isabel 376
Miraflores
Lima, Peru
Save
Save