After seeing My Week with Marilyn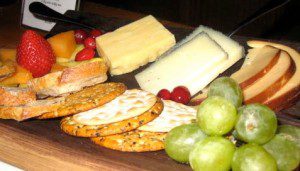 — which is not to be missed, as Michelle Williams embodied the sultry star in an Oscar-worthy performance — we headed to Cave A' Vin on State Street for a nibble and to listen to Faye Green, who was p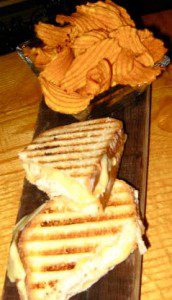 erforming.
And a nibble is all you get while sipping on some wine or beer.  The food choices include a selection of cheeses from their blackboard listing, onion soup, chili, hummus, a few assorted other nibbles and a panini. Presentation is attractive on curved thick wood platters garnished with some fruit .
My friend selected three cheeses ($16/three) fro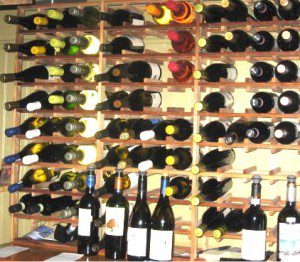 m the chalk board — aged Cheddar,  Manchego and smoked Gouda — that came attractively served with fruit, crackers and bread.  I selected their Sonoma roasted chicken and chipotle panini  — a grilled sandwich filled with oven roasted chicken chipote mayo and lots of Jarlsberg ($9) served with sweet potato chips.
For freshness, I suggest ordering a bottle of wine in lieu of a glass as Cave A' Vin handles open wine bottles with a simple home vacuum stopper. (Check out the stoppers in the bottles.) My first selection was less than fresh. So, we settled on a bottle of the 2009 Granache  – Borsao "Tres Picos" (Campo de Borja/Aragon, Spain) with berry and mineral notes ($30).
– bonnie
Follow @BonnieBOTB