Before heading to member night at The Whitney, we stopped into Catch for a light bite. One friend had described it to me as, "a pricey meal, but one of the best I've had in some time." I had to give it a try.
Could it be that good?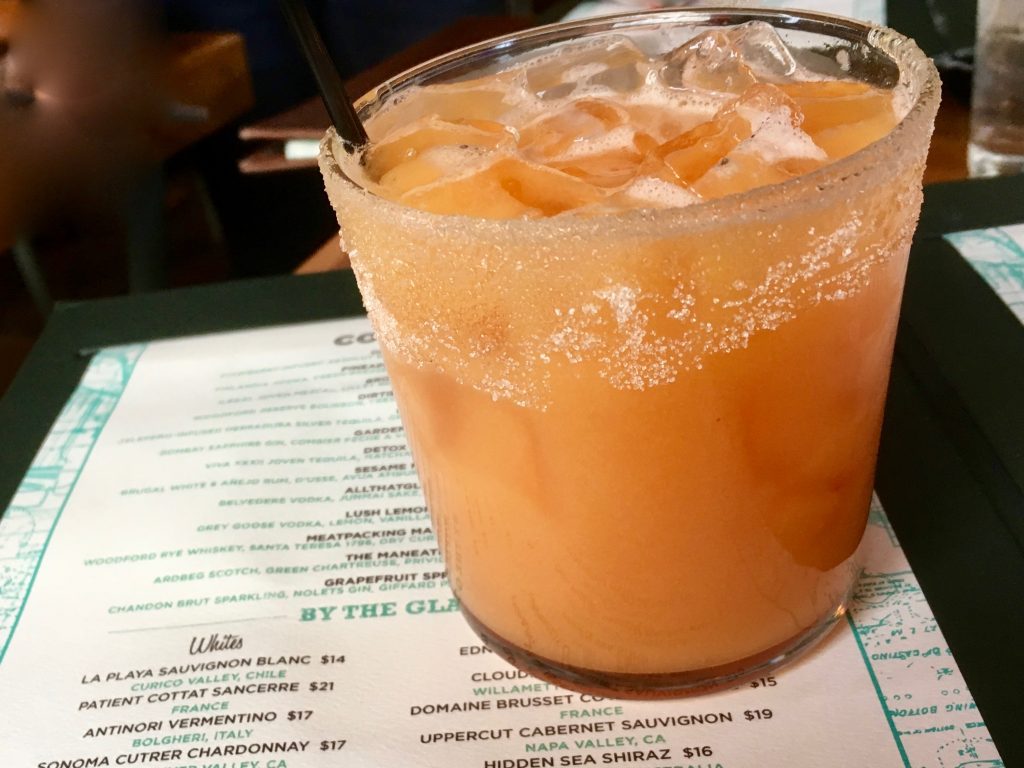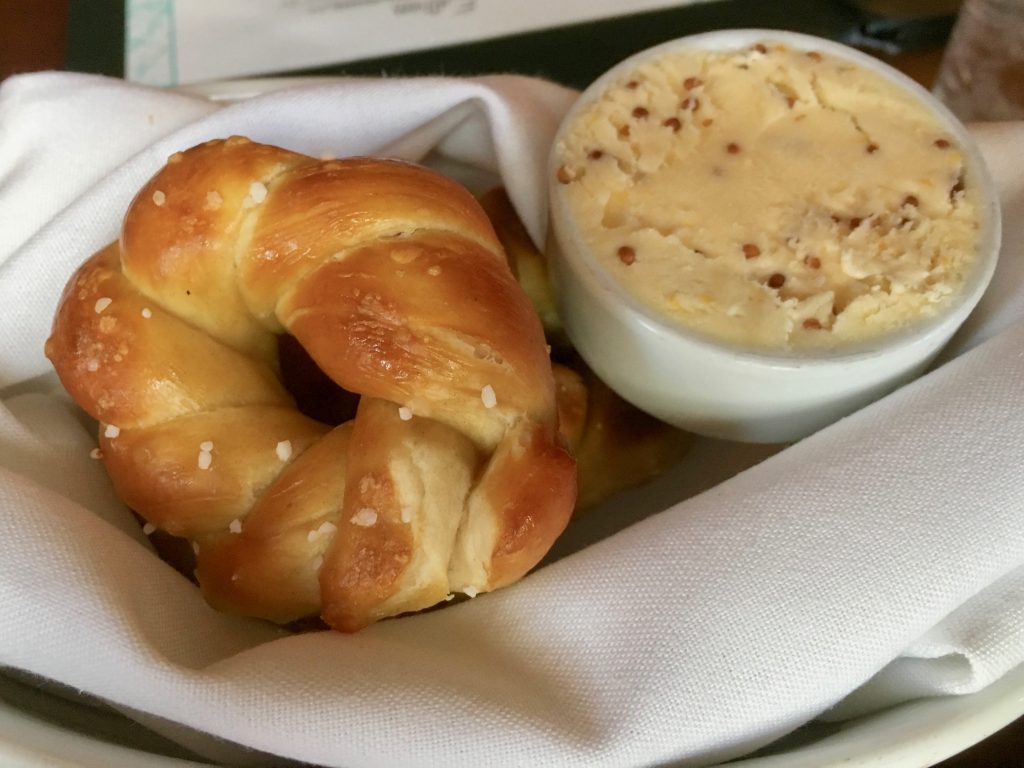 The restaurant entrance is on 13th street, although the address is on Ninth Avenue, on the second floor of the building. The main dining area is a large space, nicely appointed, which was fine as we arrived very early (in Europe would be considered a later lunch). Once it fills up, don't expect to hear your tablemate. Yup. That noisy – and close to each other.
We immediately befriended those at the table next to us, who offered us the hot pretzel bread before we were served our basket full, replete with sweet grainy mustard butter. Those warm pretzel breads are addictingly good — and are replenished when you ask.
I started with a Kali cocktail ($18) that had a nice spicy kick, a mellow one that spread through my mouth after I swallowed the jalapeño-infused Herradura silver tequila with Grand Marnier, Campari plus citrus juices (yuzu, passionfruit and orange). It was the best thing I had that evening.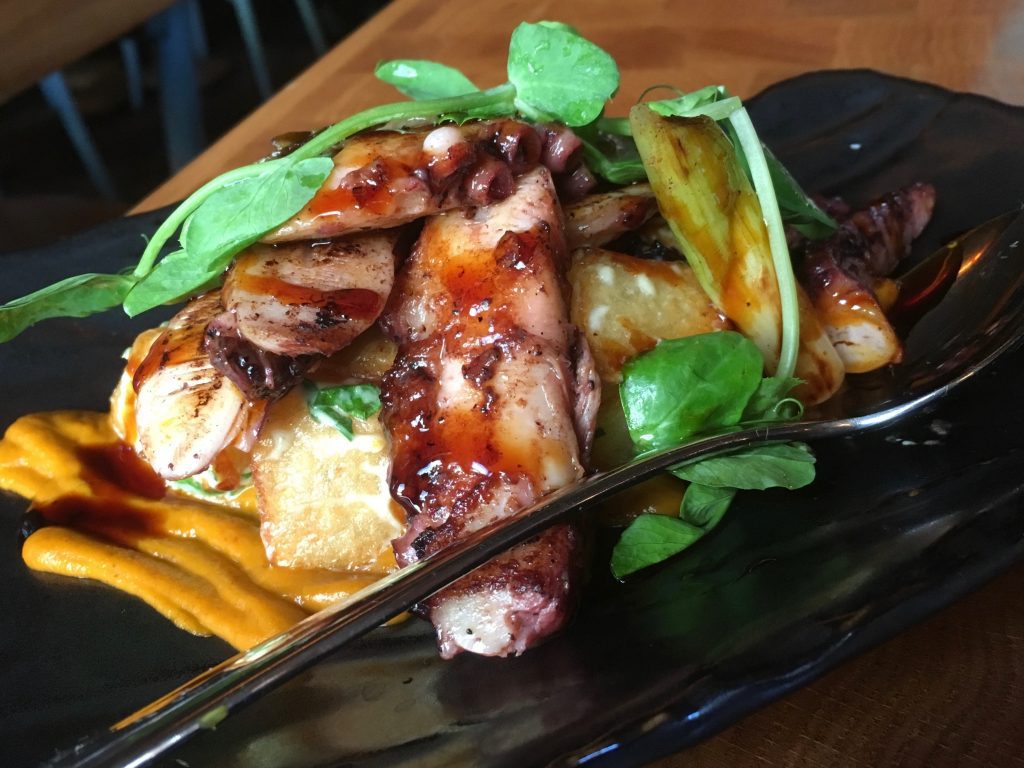 We began with a serving of small their grilled Spanish octopus with potatoes, sofrito and garlic aioli ($22) — containing four small pieces of the cephalopod – so the pricey part of the recommendation was correct.
We then shared the simply cooked grilled shrimp (6 ounces of shrimp for $31, which ended up as 5 large ones) with a choice of unremarkable sauces. We tried the too mild jalapeño cucumber and yuzu mustard vinaigrette. With that, we tried oddly flavorless cauliflower rice ($13) that contained roasted red peppers, raisins, pistachios and crispy kale but lacked seasoning. Even salt and pepper would have helped. Same with the oddly bland roasted Brussels sprouts ($13) with pomegranate arils and too finely diced piquillo peppers in a sherry-miso vinaigrette.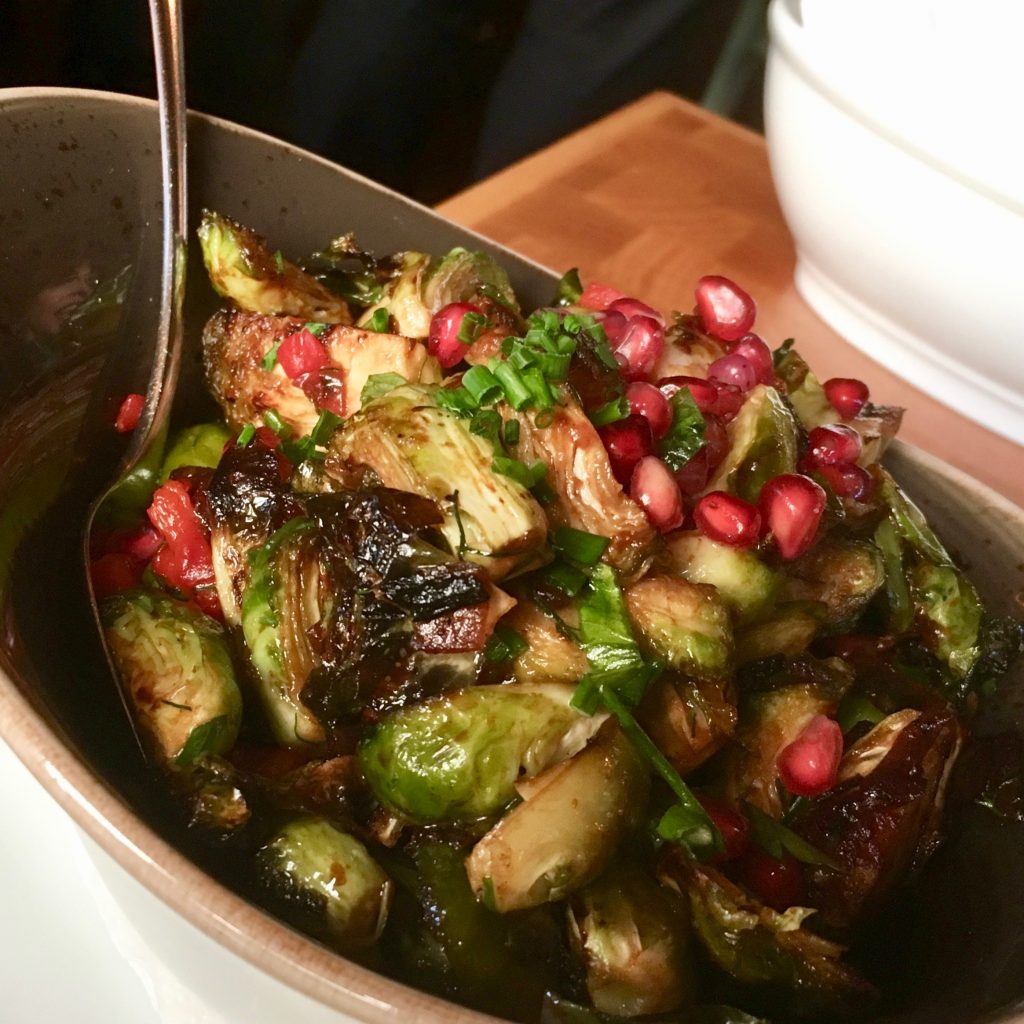 If you're looking for a place with a vibe and don't mind the noise, Catch is it but not for the food as it is not as special as had been described to me!
Gotta share that on our way out to the Whitney, we stopped in at the attendant-staffed ladies room — and oddly got our sweet fix as there are bowls of wrapped sugary items from Lifesavers to Blow Pop lollipops with Starbursts in between.
Catch
Meat Packing District
21 9th Avenue
New York, NY 10014
(212) 392-5978