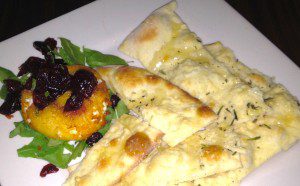 Historic Main Street in Park City, Utah offers many dining options. This time we stopped in at Cafe Terigo, a cafe serving hearty cuisine inspired by both Northern Italy and Southern France.
To start our meal, we nibbled on a serving of pinenut-crusted Utah goat cheese with a not overly sweet cranberry orange compote and herbed flatbread  ($11) along with our cocktails (High West, $12; Absolut, $9). As I would learn to Cafe Terigo pinenuts seem ubiquitous.
Being chevre lovers, we also ordered the roasted beet, baby arugula and watercress salad topped with crumbled Utah goat cheese and toasted pinenuts ($11). Tasty, but a skimpy portion needing both more beets and greens.
The Dijon rubbed pork tenderloin was cooked pink, as it should be, and served with a highly seasoned sweet potato, apple and Brussels sprout hash, topped with spiced pecans and sage butter sauce ($27).  Our bottle 0f A to Z Wineworks, Pinot Noir, Oregon ($38) worked well with that dish.
Loving Brussels sprouts we supplemented what came in the entree with a side order ($6) purportedly also roasted. Instead they were quite undercooked, not tender and delicious as with the pork.
The side of creamy sweet corn risotto ($6.50) — redolent of fresh autumn corn, topped with a fresh rosemary sprig  — was worth the visit alone.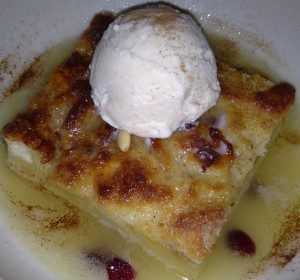 If you go, don't miss it.
The warm Terigo bread pudding is studded with dried cranberries and toasted pinenuts, in ($9.95) a butter rum sauce and topped with cinnamon ice cream — it's the dessert to select.
– bonnie
Follow @BonnieBOTB
Cafe Terigo
424 Main St Map
Park City, UT 84060
(435) 645-9555