I wanted to grab a bite at Narcissa, a restaurant I had so enjoyed as it was around the corner from the Public Theater where I had tickets that evening. My friend had a tight schedule, only leaving us less than an hour to eat, and Standard Hotel suggested we'd get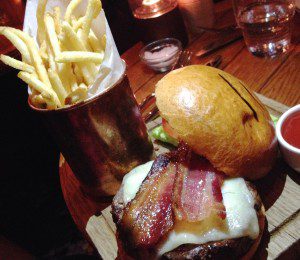 faster service at their cafe. Unfortunately, not.
We ordered within minutes of sitting down, but it took the server more than half an hour to bring our food, leaving no time to fix the kitchen's mistakes. The Standard burger ($16) arrived charred on the outside, but raw inside all topped with cheese and partially cooked bacon. At least the salty shoestring fries hit the spot
My friend's avocado sandwich on pumpernickel bread ($14) was a good vegetarian choice, with sliced cucumber, sliced radishes all spread with a pistachio pesto. It also came with a lightly dressed salad. I could recommend that for a light bit.
We left in time to be seated for "The Fortress of Solitude" at the Public Theater around the corner. The socio-pop musical was well acted and engrossing but could have been cut by at least 30 minutes.
– bonnie
Cafe Standard
Standard Hotel East Village,
25 Cooper Square,
New York, NY 10003
(212) 475-5700
Save