Nestled on Grove Street in the West Village is Buvette, a gem of a tiny bistro with chef Jody Williams. Since they
take no reservations, we walked over for a very early dinner and got right in.
We opted for outside seating as it was a beautiful night,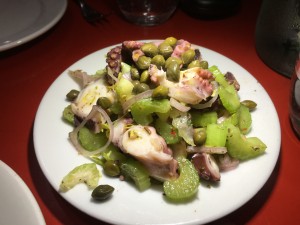 being seated on one of the tiniest restaurant porches I've ever seen. We were seated at small round red tables so close to each other that our chairs clinked if we moved, adorned with small plates, forks and knifes corresponding to the table size. Cute.
The portions were also appetizer-size small (I liked that!) and priced accordingly. The most expensive menu item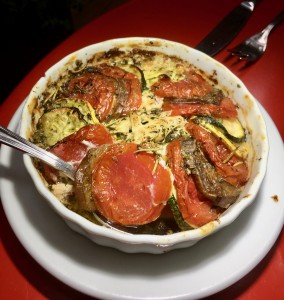 is $18!
We shared the heirloom tomato salad ($12) with cucumber, scallions and feta, and a chilled octopus salad with crisp celery and lots of capers to start ($17). Each quite simple, yet full of flavor (it was the height of tomato season when we ate there!).
Next, we shared the small (~4-inch) hot sliced zucchini and tomatoes tian with eggplant and chevrè cheese tart, and one of the smallest lobster pot pies ($17) I've seen. It was in ~3-inch ramekin, topped with a flaky crust filled with rich lobster stock. Our only complaint was there was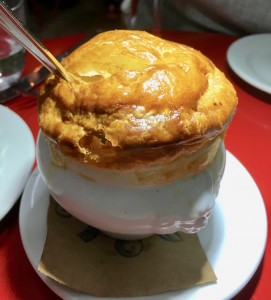 minimal lobster.
When asked, we told our friendly server how much we loved the dishes, but were disappointed at how little lobster was in the pot pie.
My dining partner, having room for dessert, ordered the decadent chocolate mousse to share. To me (of course, I had to taste it!), it was more of a rich ganache made with cream and high-quality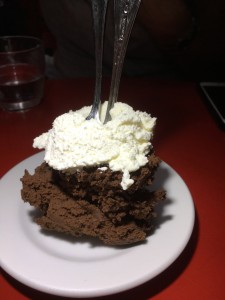 chocolate. A scoop of that came topped with unsweetened whipped cream. Heavenly.
When we got our check, the dessert was complimentary. Our waitress responding to our lobster comment. Nice.
I so enjoyed our meal at Buvette and will return to sample her midday menu. This restaurant worth the special trip!
– bonnie
Buvette,
West Village
40 Grove Street
New York, NY 10014
(212) 255-3590