After a stop at Park City's new Escape Room, we were in the mood for a burger and fries, so we headed up the mountain to Montage Deer Valley resort's newest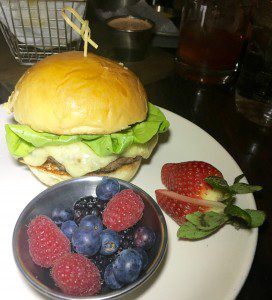 restaurant, Burgers & Bourbon.
We were quite hungry after working together to figure out how to get out of the ingenious room where we were locked in! Think Indiana Jones meets the games on Survivor and you'll begin to understand this fun way to spend time with friends in Park City.
Once we got to Montage, I couldn't resist a bourbon cocktail. The double barreled cocktail ($17) hit the spot with its blend of High West Double Rye, High West Barreled Manhattan and barrel-aged bitters with an orange slice.
With that we ordered burgers for us and Skuna Bay salmon ($32) with in an herbed beurre blanc with Brussels sprouts, wild mushrooms and yams for my toddler grandson.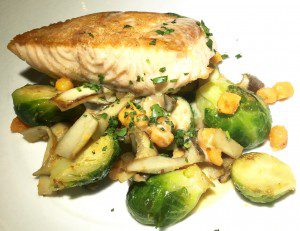 He gobbled it up! Be sure to bring your little one, if you have one, as they are so accommodating!
I ordered the child's burger with cheddar as a 5-ounce one fit my appetite better than the 7-ounce adult one. Mine came with fresh berries. My son ordered the smoke house burger with a bourbon bbq sauce, bacon, caramelized onions and substituted Humbolt fog for the cheddar ($18). Both of the farm-raised beef patties were cooked to perfection and served on freshly baked potato buns.
With that, we indulged in fried goodies. First fried pickle chips (something that I hadn't eaten since a visit to Natchez, LA) with paprika ranch dressing for dipping ($9), and an order of the trio of fries & sauces ($14). The latter included hand-cut rosemary sea salt, truffle parmesan and sweet potato fries with garlic aioli, b&b fry sauce and paprika ranch. Yum!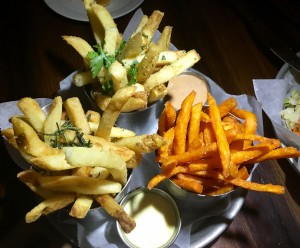 – bonnie
Burgers & Bourbon
Montage Resort
9100 Marsac Ave
Park City, UT 84060
(435) 604-1300

Save
Save
Save