The Tasting Table agrees with me as to their favorite Corkbuzz dish: the buttery bowl of bucatini with Brussels sprouts and chile oil. They like it with a glass of Trimbach Riesling Reserve with it — which is why they the recipe doesn't contain the chile oil …. at least according to sommelier/owner Laura Maniec.
"Chef Hayan drizzles chili oil at end as garnish… We left them off recipe for the purpose of pairing with the Trimbach but if you love the heat, just pair with a slightly sweet German Riesling," explained Laura.
Here's the adapted recipe from Hayan Yi, Corkbuzz Wine Studio from their site that takes about 25 minutes to prepare.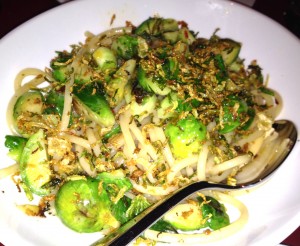 To see the original click here.
This photo was taken when Corkbuzz first opened, and the chef topped the dish with yummy crispy Brussels sprouts!
Bucatini with Brussels Sprouts
8 oz bucatini
Salt
4 T unsalted butter, cut into cubes
½ lb Brussels sprouts, ends trimmed and quartered
4 garlic cloves, finely chopped
1 shallot, finely chopped
1½ t red pepper flakes
Freshly ground black pepper
1 c finely grated Parmigiano-Reggiano cheese
Juice of 1 lemon
3 T finely chopped parsley
Chili oil
In a large pot of boiling, salted water, Cook the pasta following the package instructions until al dente in a large pot of boiling salted water. Drain, reserving 1 cup of pasta water for the sauce. Transfer the pasta to a rimmed baking sheet, untangling the pasta so it lies flat (and cools quickly).
In a large skillet set over medium-high heat, melt the butter. Once the butter is melted, increase the heat to high, then add the Brussels sprouts and cook until golden brown and just barely tender, about 4 minutes. Stir in the garlic, shallot and red pepper flakes, season with salt and pepper, and cook until the garlic is fragrant, about 1 minute.
Pour in the reserved pasta water and shake the pan to incorporate the butter and vegetables. Add the pasta; using tongs, toss it with the sauce. Turn off the heat and mix in the Parmesan cheese and lemon juice. Taste and add more salt or pepper if needed. Stir in the parsley, drizzle with chili oil and serve.
Makes 4 servings
– bonnie

Corkbuzz Wine Studio
13 E. 13th St
New York, NY 10003
(646) 873-6071
corkbuzz.com