Eating a mediocre (I'm being kind) b'steeya at a West Village restaurant, I felt compelled to dig out the article I wrote in the New Haven Register food section cover story on November 2, 1982, and reproduce the recipe here. Those results were addicting-ly great, eaten by hand as you grab a section and pull. Yummy for sure.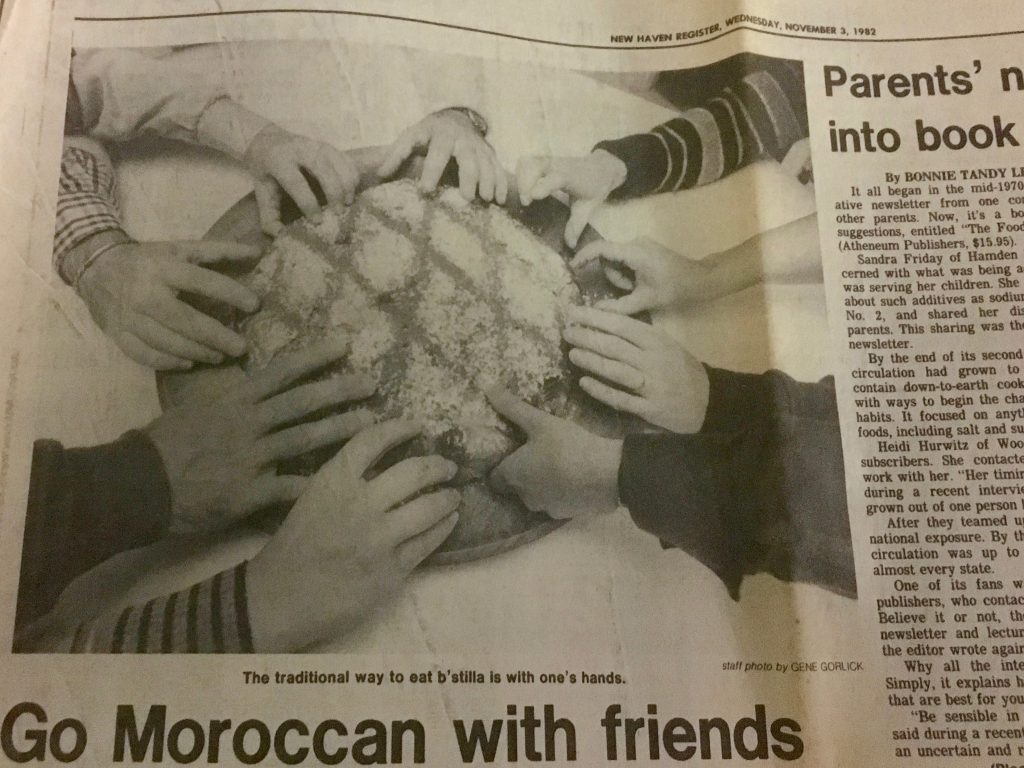 B'steeya
4 pounds of chicken legs and thighs
3 cups water
10 tablespoons unsalted butter
1 cup chopped fresh parsley
1 large onion, minced
One 3-inch stick of cinnamon
3 tablespoons finely chopped fresh cilantro
1 scant teaspoon freshly ground black pepper
1/4 teaspoon cayenne pepper
3/4 teaspoon ground ginger
1/4 teaspoon crushed saffron
1/4 cup vegetable oil
2 cups whole blanched almonds, about 12 ounces
1/4 cup confectioners sugar
2 teaspoons ground cinnamon
3 tablespoons fresh lemon juice
7 eggs, well-beaten
Salt
1 stick (4 ounces) unsalted butter, clarified*
12-ounce package frozen phyllo, thawed in refrigerator
Garnish: confectioners' sugar
Garnish: ground cinnamon
Combine chicken, water, 6 tablespoons unsalted butter, the parsley, onion, cinnamon stick, cilantro, black pepper, cayenne pepper, ginger, turmeric and saffron in a Dutch oven (a heavy-bottom pot with a lid). Cover, bring to a boil over high heat and then reduce heat and simmer for 1 hour stirring occasionally.
Heat oil in a large skillet, add almonds and fry, stirring constantly until golden brown, about three minutes. Drain well on paper towels, transfer to a food processor with a steel blade. Add sugar and cinnamon and process until almonds are coarsely chopped. Add four tablespoons butter and mix, using about three pulses with the food processor or crumble with your fingers. Set mixture aside.
Take chicken mixture off the heat. Remove chicken from the broth and let cool. Remove and discard any loose bones remaining in the broth, then cook over medium-high heat to reduce. Stir constantly while reducing until the mixture does not flow back into the center when a spoon is drawn through the middle, about 15 to 20 minutes. Remove and discard cinnamon stick.
Reduce heat to a simmer. Add lemon juice. Pour eggs into simmering sauce. Cook by gently lifting the cooked mixture to allow the uncooked mixture to flow to the bottom of the pan and stir gently until cooked and slightly congealed. The eggs should become curdy but not too dry, being the consistency of dry scrambled eggs. Using a slotted spoon, transfer the eggs to a baking sheet or jelly roll pan and refrigerate until completely cool. Add salt to taste.
Shred the cooled chicken into pieces about 1 1/2 inches long; discard bones and skin.
Preheat oven to 425 degrees.
Brush a deep 10- or 12-inch round pan with a little clarified butter. Cover the pan with a sheet of phyllo, keeping unused sheets covered with a damp towel.
Drape several more sheets one at a time, into the pan, allowing one-half of each of the sheets to extend beyond the edges of the pan and the remaining half to evenly cover the bottom of the pan. Brush layers with butter.
Spread chicken pieces evenly on the bottom of the pan; cover with the drained egg. Sprinkle with almond-sugar mixture.
Working as quickly as possible, cover the layers with all but four of the remaining pastry sheets, brushing each lightly with butter. Fold extended sheets over the top of the pie to cover and enclose. Place the remaining four sheets over top, lightly buttering each. Tuck nearly around the outer rim and lightly brush top with butter. Pour any remaining butter around the edges.
Bake 10 minutes. Remove pan from oven and shake pan to loosen the pie. Run spatula around the edges and carefully pour off excess butter.
Invert onto a large buttered baking sheet and return to the oven, continue baking about 15 to 25 minutes until crisp and golden brown.
Invert onto serving plate and dust with confectioners' sugar. Create crisscross lines across the top with ground cinnamon. Serve immediately.
Makes 6 to 8 entree servings.
* To clarify butter, melt unsalted butter in a saucepan over low hear. head. Remove from heat, allow milk solids to sink to the bottom and skim and then discard any foam from surface, then carefully pour off clarified butter, leaving solids behind.