Numerous awards, 11 restaurants and several Food Network gigs later, Bruno DiFabio opened Amore Cucina & Bar, the second oldest restaurant in Stamford (921 Hope Street). The six-time World Pizza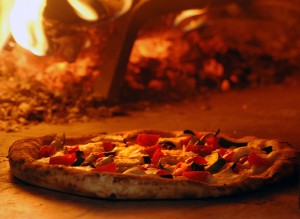 Champion, restaurateur, and Food Network judge came home to the neighborhood where he made his first pizza dough.
Amore Cucina & Bar offers classic Italian fare to pay homage to its predecessors. The restaurant features Bruno's popular Pizza Romana, a square pie that uses the "Poolish" dough method of a 72-hour fermentation process that's cooked in a gas-fired brick floor oven. Varieties include the award-winning West Side (spicy salami, green olives, tomato, mozzarella and passata). The wood-fired oven offers the Fabio signature pie (zucchini, cherry tomatoes, pork belly, mozzarella, fava bean and mint salsa), Pizza Napoletana and more.
The restaurant also offers lasagna layered with slow cooked ragu Bolognese, ricotta, parmigiano and mozzarella cheese; wood-fired meatballs in a simple tomato marinara; and chicken scarpariello prepared with brick oven chicken, tangy white wine and garlic reduction, roasted potatoes and fennel sausage.
For additional information call 203-357-1066.
– Guest submission