This time Tertulia was hopping, with every seat filled. It's that Spanish gastropub in the West Village where Chef Seamus Mullen's menu celebrates his country's exceptional products and flavors. We were seated at a communal tabl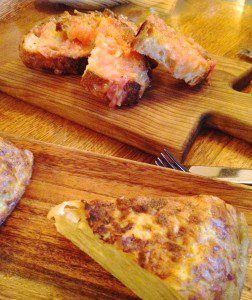 e in the back, right in front of the open kitchen where we could see the chefs adding goodies to the wood-burning stove.
We started with their weird version of a bloody Mary ($13) with an anchovy, olive and pickled piparra (peppers),  the only thing that disappointed. Skip this; instead try their cider ($13) made with Orleans Vermont ice cider, rye, sparkling cider and apple bitters, a drink with a cinnamon bouquet that I  could imagine sipping in front of a roaring fire.
The simple and amazing Pan con Tomate ($7) delivered — just  toasted bread rubbed with tomato, garlic and olive oil. Also good is the simple Nuestra Tostilla Espanola ($6), the classic tortilla served room temperature, with layers of thin potatoes and onion held together b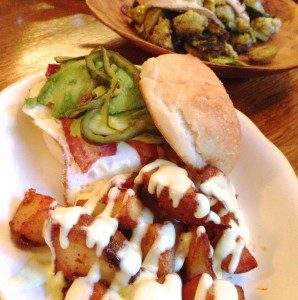 y egg. With that we had a side order of the Nuestras Patatas ($9), crispy and salty fried potatoes drizzled with a rich garlic aioli.
I'd recommend both of the egg dishes –  the flavors in the Bocata de Buevo y beicon ($13) all meshed into perfection — the fried egg on the soft roll with crispy bacon, huge creamy slices of avocado and the sharp, salty Mahón cheese. The Hoevos y Bistec ($13) contained creamy polenta topped with poached eggs and served with a small chunk of grilled skirt steak and some bread slices needed for wiping clean the plate.
With those we had an order of ensalada de verduras asadas ($12) – a salad of grilled Brussels sprouts, cauliflower, boquerones (anchovies), salsa verde.
A wonderfully delicious way to spend a Sunday morning.
– bonnie

Tertulia
West Village
359 6th Ave
New York, NY 10014
(646) 559-9909
tertulianyc.com