I first met chef Brian Lewis when I was invited to dine at the elm, his former restaurant in New Canaan, though I had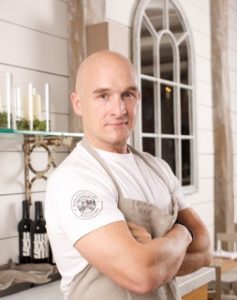 sampled his cooking prior to that. He was the executive chef at actor Richard Gere's The Bedford Post Inn, a Relais & Chateaux property. I had been impressed with his unusual blend of flavors and textures and gladly followed him to his newly opened The Cottage in Westport. (A review of that meal will post later this month.)
Brian was raised in New York (Westchester) and studied at the Culinary Institute of America and Johnson and Wales University. He, his wife Dana and their twin boys Jude and Jax live in Connecticut.  We caught up with him recently to respond to our Guest Foodie questions.
– bonnie
BonnieBOTB
Follow @BonnieBOTB

Which food product or gadget would you never give up? Duck fat – I am just a sucker for the flavor and it's versatility. I love to cook everything from potatoes, garlic, all types of meat and even fish in duck fat. I do however make one qualification, always best to render your own duck fat vs. buying already rendered. I feel the slowly rendered fat is more like an extra virgin quality.
My favorite gadget: a kitchen spoon. There is nothing quite like the kitchen spoon during service. I often watch so many cooks using tongs, and so many utensils during the course of the service. The perfect kitchen spoon allows me to do every single task with one utensil, glued into my hand like a drummers sticks, head down.
What do you like to serve when you entertain?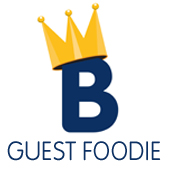 Start with a cocktail or punch, like a perfect Yuzu Sour – made with yuzu juice, Broken Shed vodka and a touch of yuzo koshu and ginger beer.
When I cook at home for friends I want it to be all about family style – usually whole roasted chicken from Millstone Farms smothered in black garlic and espelette pepper, served with steamed bao buns and kimchi with carrots, cabbage and random roots from our garden. We make the kimchi and keep it around as long as we can! Roasted duck fat potatoes with lots of sticky pan crispy garlic as well.
To finish, always a tarte tatin, depending what is in season: apple, peach, pear or quince with some chilled Sauternes poured over it and some crème fraîche.
If you got to choose what you ate… describe your "last meal?" Exactly what I make for my wife and friends as listed above. Would have to be with my wife Dana and my boys Jude and Jax! So hopefully it will be very far from now!
I would want an excessive amount of Russian Osetra caviar, freshly churned butter with sea salt, sea urchins just shucked, my beef brisket steam buns with kimchi, and dark chocolate ice cream with hazelnut and almond brittle.
What food is your secret guilty pleasure? Chocolate – pure dark chocolate, French fries with aioli of course, peanut butter and jelly sandwiches and fried chicken and great slaw.
What is your go-to neighborhood restaurant? The Schoolhouse, located in Wilton, CT. My wife Dana and our young twin boys Jude and Jax live in Wilton and we absolutely love what chef Tim Labant is doing at his restaurant. He

is cooking beautiful, local and delicious food that we love for "date night" or is perfect to bring the family for Sunday brunch. Tim has a great palate and is cooking really interesting food, not to mention the environment is super charming and comfortable.
What is one food product most people don't know about, but should…? Fennel pollen, which has been a longstanding dried herb / spice in most professional chefs' kitchens for the past decade or so. The dried pollen from the fennel plant offer a distinct nutty and toasted aroma redolent of curry, with a more singular and fennel-based flavor profile. I dry my own fennel plants in the summer for our own fennel pollen. My favorite application is pairing it with a salad of bitter greens and salt-roasted beets, pistachio and an almond oil and ice wine vinaigrette. Sprinkled over grilled or steamed fish with preserved lemon is wonderful as well.
Describe your worst kitchen disaster and how (if possible) you saved it: At 4:30 pm one Saturday afternoon we were working away, gearing up for a fully booked Saturday evening service and suddenly all of the ovens just stopped working. We came to find out that the gas company had to shut off the gas line in town, due to a possible leak in town, which thankfully did not happen. We had to make  a clutch decision of whether or not to stay open –we rallied and re-structured the menu with a heavy cold section, put camping burners in place and our heads down and turned out a really amazing service!
Who was your most influential mentor? Tom Elia –my first chef at the restaurant Mona Trattoria, which I grew up in in Northern Westchester and worked at from 14 — 22, throughout college. I worked under Tom and learned every aspect of the true Italian kitchen at this renowned restaurant whose owners and cuisine were from Emilia Romagna. The cooking and life of the kitchen was in my blood from those early days with Tom. He inspired me with his passion, work ethic and most of all, incredible skills as always being an amazing leader by cooking all day and night!
To follow Brian Lewis on Twitter, click here.