Overlooking Times Square on the second floor of the Crowne Plaza at 1605 Broadway, you'll find American cuisine at Brasserie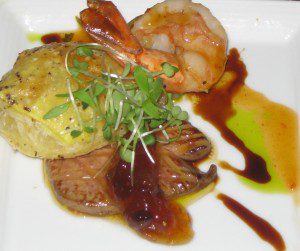 1605.  My evening at the restaurant began with a delightful amuse bouche — a chili-flavored shrimp and a slice of foie gras topped with puff pastry and fig compote and drizzled with both basil and chili oil, and sweet soy.
This can be an apres-theatre stop, where a three-course meal costs $30 and consists of a choice of the soup du jour or house 1605 salad (baby greens, frisee, gala apples, goat cheese, toasted hazelnuts in a port vinaigrette) a changing choice of entrees,  and dessert.
Since that evening was for dining, not theatre going, we chose from the entire menu. Our apps included a crock — crusted with gruyere, mozzarella and gouda cheese of a hearty sweet onion soup ($9) and our favorite layers of ahi tuna, avocado, red onion, toasted sesame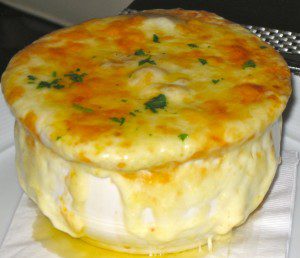 seeds on wonton crisps drizzled with both sweet soy vinaigrette and a deliciously spicy ginger lime srirachi aioli ($13).  That spicy srirachi sauce worked better with the basket of perfectly steamed veggies (baby bok choy, snow peas, haricot vert, white and green asparagus and napa cabbage) than the not-spicy-enough red coconut curry sauce that came with it ($10).
For our entrees, we sampled a roasted (boneless) brook trout with tiny Brussels sprouts, porcini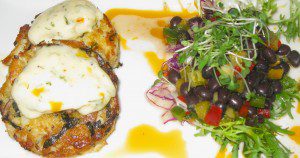 mushrooms, baby turnips and toasted pistachios in an orange-lemongrass broth ($29); the braised veal shank   with wilted spinach, caramelized spätzle and topped with gremolata; and the lump crab cakes with with black bean and pineapple salsa drizzled with lemon dill aioli and cilantro chili oil  — along with a malbec (Argento, Argentina; $30), that worked well with our selections, especially the veal.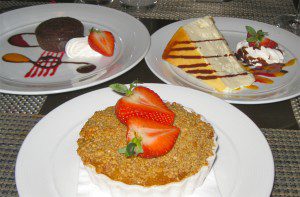 For dessert, we demolished every morsel of the molten chocolate lava cake made with Valrhona chocolate and served with hazelnut gelato. That's the dessert I'd recommend although the classic apple tart (with almond frangipane and cinnamon sugar apples & Tahitian vanilla gelato) and Junior's New York Style Cheesecake (with raspberry, mango coulis and chocolate sauce, fresh berries and  whipped cream) were also tasty, ($9.50 each)
-bonnie
Brasserie 1605
1605 Broadway (between 48/49)
New York, 10019
(212) 315-6000