Last month the New Haven Chamber of Commerce held their Business After Hours at the newly opened Box 63 — in the former home of Fitzwilly's, more recently Cosi, at the corner of Elm and Park Streets. That's where I met Bethany, their marketing and event coordinator, who invited me back for a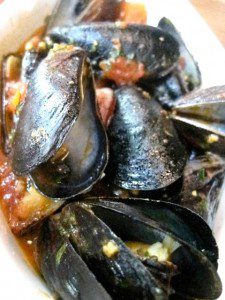 tasting. I agreed to make a date as the food I had sampled was a notch above typical pub fare.
Seasoned restaurateur Carl Carbone and his cousin Tom Carbone are the men behind Box 63. They're most notably of the family run Carbone's Ristorante in Hartford since 1938.
Our tasting at Box 63 included small portions of lots of tasty menu items, including various libations — a cucumber Mojito ($8), with a clean crisp flavor from house-infused cucumber rum that blends nicely with the fresh lime and mint.  We also sampled a more ordinary Newport Chill ($8) with raspberry vodka, Sprite and a splash of cranberry juice — much too sweet for me. Hands down, the most unusual drink is the Stuck Pig ($8) with house-infused bacon (yes, bacon) bourbon with sour mix and apple pucker (AKA Apple Schnapps) with the glass rimmed with salt and crumbled bacon. Quite interesting for sure, but one is enough as it leaves a fatty finish.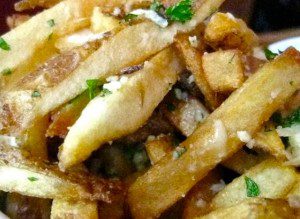 Love Caesar salad? Then be sure to sample their Classic Caesar with crisp romaine, slivers of Parmesan in a creamy classic dressing with — now here's the unique part — warm molten lava Parmesan cheese croutons that ooze liquid cheese upon biting ($8.43). The Spinach Cobb is also tasty, with strips of grilled chicken, avocado, hard cooked egg, fresh mushrooms, roasted red pepper and crispy bacon all coated in bacon ranch dressing ($9.67). Yes, indeed, Box 63 loves bacon.
Also interesting are their Grilled Brooklyn Flats. We sampled the Roasted Forest Mushroom flatbread with shallots and mozzarella ($9.63) and — my favorite — the Big Apple one topped with roasted apples, smoked bacon, caramelized onions, Gorgonzola, Mozzarella and drizzled with a balsamic reduction ($9.87). Yum!
The Mussels & Fries ($10.83) are not to be missed — succulent plump mussels with slices of andouille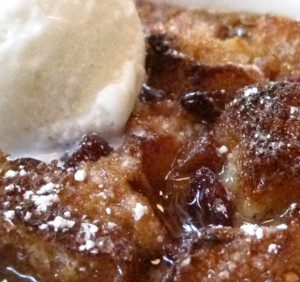 sausage, cooked tomatoes with herbs, garlic and white wine served with-hand cut fries & bacon ranch dressing. Yes, more bacon!
Loved the succulent pork tenderloin ($18.57) rubbed with a spicy chipotle seasoning blend, cooked to perfection: crisp on the outside with a touch of pink inside. It's served with soft grits and bacon-braised Brussels sprouts.  (I could have eaten a bowlful of the sprouts.)
Their dessert makers has a sweet sense when it comes to The Box 63 PB&J ($5.43). It could have been sickly sweet but instead was incredibly balanced in flavors with a light moist cake not overly filled with peanut butter, topped with a schmear of chocolate cream cheese and served with both unsweetened whipped cream and macerated strawberries. Worth sharing.  And for something a bit more on the sweet side, consider their warm Kentucky bourbon bread pudding redolent of pecans and Craisins topped with vanilla ice cream ($5.83).
Box 63 has two bar happy hours — one at the traditional time 4 to 7 pm the other from 10 to 11:30 pm, and just started serving brunch on both Saturday and Sunday. Worth the visit.
– bonnie
Follow @BonnieBOTB

Box 63
338 Elm St.
New Haven, CT 06511
(203) 821-7772
www.box63.com