Looking for a place to get a bite before seeing the one-woman show "My Mind is Like an Open Meadow," at 59E59, I selected an Italian Bistro just up the street on 59 Street, located in the home of the former the Playboy Club. I later learned that the chalet-style interior copies their sister restaurant located in Verona, Italy.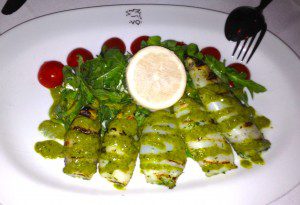 I was just glad to find something close on a rainy evening;  I wasn't expecting the fabulous food and service that we experienced.  From the side-table serving of our Bolgheri Vermentino '09 ($45) to the splitting of our entree in the kitchen, the service was truly professional and exceptional.
The calamari Griglia ($18) contains an amazingly large portion of five grilled calamari with baby arugula, cherry tomatoes and fine herbs with a refreshing touch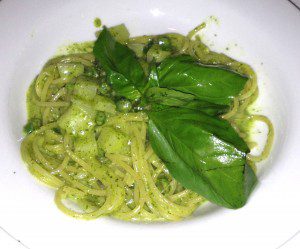 of fresh mint and a lemon dressing.
Treneto Pesto ($22) — al dente spaghetti with diced potatoes (yes potatoes), and although the menu said haricot vert – the dish came with peas all in a  a pesto sauce topped with fresh basil.  Half a serving of each hearty portion and I was stuffed!
My only issue was with the puny wine list we were given offering only a handful of wines. We ordered an Vermentino Antinori from the mini-folder, yet the waitress offered us a Bolgheri instead for the same price ($45).  We didn't learn that restaurant was renowned for its selection of wines — with one of the largest wine cellars in New York — until we noticed the waiter for the table next to us handing them a wine-list tome the size of a Manhattan telephone book. It was too late for us as we were paying our check.
Still, since the food and service were spectacular, I'd return in a heartbeat and ask for the larger wine list.
Bottega Del Vino
7 East 59th Street
New York, NY 10022
212-223-2724