After a day at the beach in the Hamptons, I'm always on the hunt for an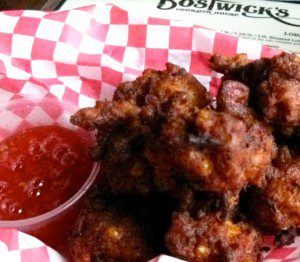 inviting roadside restaurant serving truly fresh seafood. We had an inkling as we walked into Bostwick's — now located right on route 27 Montauk Highway at the former site of Cherrystone's — that it was just that place. Bostwick's offerings are in a laid-back setting (food's served in baskets; utensils and cups are plastic). They have both indoor and outdoor seating.
For an appetizer, we had that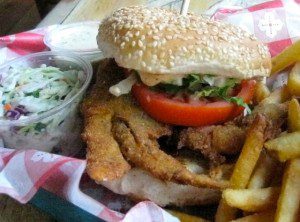 day's special: fried nuggets of fresh lobster and corn fritters, with a sweet and hot chili sauce ($14). We followed that with a fried soft shell crab on a sesame seed burger bun (spread with an Old Bay aioli) with a tomato and lettuce ($14).
And, we lapped up the fresh lobster roll – Maine-style: a chilled offering with lots of minced fresh lobster with little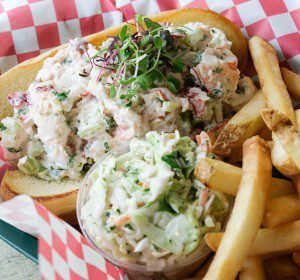 mayo holding it together in a toasted hot dog bun. It was served with crispy french fries and cole slaw,  so crisp you know it was freshly made and usually, and deliciously, seasoned with cilantro ($17.95). We washed it all down with a refreshing Sanama (Chile) Sauvignon Blanc ($36).
Perfection. A wonderful respite after a day at the beach.
– bonnie
Bostwicks Chowder House
277 Pantigo Road
East Hampton, NY 11937
631) 324-1111
www.bostwickschowderhouse.com