I was invited back to sample the fare at the recently opened Bleecker Kitchen & Co.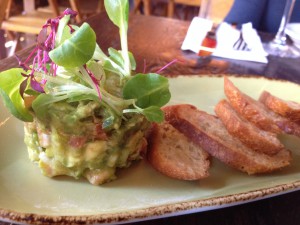 The first time I went, it wasn't a normal afternoon.
When I arrived the owner was a bit tied up with his first health inspection (Bleecker Kitchen & Co got an A, by the way) and his daughter's third birthday party (they arrived soon after we did).
That day their focus was elsewhere.
When I went this time, things were infinitely better!
Don't miss the salmon belly tartare, with a hint of heat in the citrusy avocado ceviche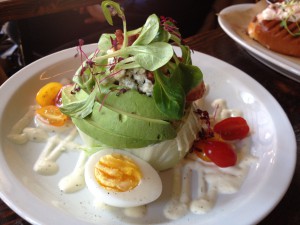 ($12). Also tasty is their lemony roasted beet burrata salad  ($14) topped with pistachios.
Their composed Cobb salad ($13) consisted of a thick wedge of iceberg drizzled with ranch dressing, topped with a freshly slice avocado, thickly cut pieces of smoked chicken, blue cheese crumbles and bacon batons, surrounded by yellow and red grape tomatoes, and wedges of perfectly hard-cooked eggs. I recommend. This chef liberally uses lemon to liven his food! …like the lemony fresh spinach ($7) topped with micro-beets and lots of lemon zest. Don't miss.
Theirs is one of the heartiest portions of Maine lobster I've eaten ($24). Huge moist chunks, refreshingly seasoned, in a large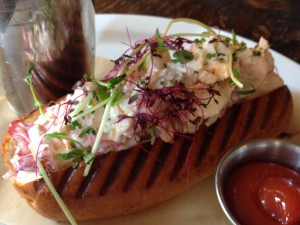 brioche roll. Served with a portion of addicting fries, crispy on the outside moist and tender inside.
We ordered the lemon tart and the bread pudding ($8, each) for dessert. The lemon "curd" in the tart was too watery to enjoy. The warm croissant bread pudding comes topped with a caramel sauce and a scoop salted caramel ice cream.
If you're in the area stop by.
– bonnie
Follow @BonnieBOTB
Bleecker Kitchen & Co
Greenwich Village
643 Broadway, New York, NY 10012
(212) 253-7467