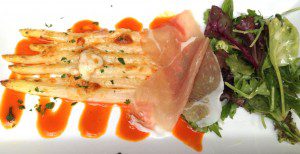 If you haven't yet discovered Bistro Basque, the hidden gem in the center of Milford, I suggest you do so! It's worth the drive from where ever you are. It has consistently good food and welcoming service.
When you go, don't sit in the dining area just past the bar — unless you want darkness. Instead, head through that area to the atrium with a heated floor and  glass roof where sunlight pours through … or, weather permitting, go to the outdoor area.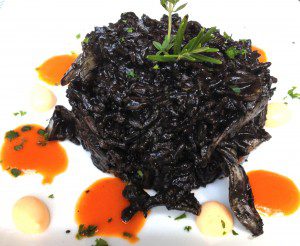 Try the white asparagus ($9.50) topped with Manchego cheese (whole milk sheep's cheese from the La Mancha region of Spain) and thin slices of Iberian ham in a piquillo pepper sauce with salad greens.
The menu describes the Txpirones ($12) Basque-style squid in their own ink with rice, but that's a misnomer.  Instead it's flavorful rice in squid ink.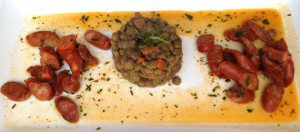 I also recommend the Chorizo y Lentejas ($10), mildly spicy chorizo sauteed in garlic and white wine served with lentils.
– bonnie
Bistro Basque
13 River Street
Milford, CT 06460
203-878-2092