Singles as four 3.25-ounce single-serve bags; Selects, Mixtures and Premium Selects, 12-ounce bags that serve four
The nutrition of whichever veggie you select, nothing more — as these contain no sauces
$1.69-$2.99
Plain veggies that you steam in their bag in a microwave
In the freezer section
Anyone who wants fresh-tasting, sauce-free vegetables at any time
Bonnie: Steamfresh veggies warm a dietitian's heart. What's not to love as each package contains pure vegetables and nothing more. This makes eating the government's recommended 2 1/2 cups a day easy, delicious and nutritious.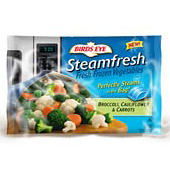 (That recommendation, by the way, is based on a person needing 2000 calories a day … so you may need more or less depending on your calorie level.)
These veggies go directly from your freezer to the microwave and steam right in their own bags. You can season them to taste — if you want to — after they're cooked. No need for any cleaning, cutting or chopping the vegetables, and no dirtying a pan.
That is, unless you choose to season them. Last time I made Steamfresh Select Green Beans I sautéed the just-steamed veggies in a little butter, seasoned with salt and freshly ground pepper, and topped with fresh roasted chopped almonds. Simple. Delicious.
Steamfresh are so good that earlier this month Supermarket Sampler — my syndicated column — awarded its coveted, annual Golden Shopping Cart of the Year award, honoring the best new product of 2007, to Birds Eye Steamfresh. For the past 18 years Carolyn Wyman and I have been selecting one product that we deem tasty, healthy and on-trend to receive this award.
You can purchase Steamfresh as Singles (Super Sweet Corn, Baby Brussels Sprouts and Sweet Peas) that contain four single-serve bags, or the Steamfresh Selects, Mixtures and Premium Selects (a wide variety of choices). A 12-ounce bag serves 4.
And, be on the lookout this March for Birds Eye's new Steamfresh Rice offering long grain white rice, whole grain brown rice and long grain white rice with mixed vegetables. These will cost $1.69 for a 10-ounce package, which will serve 2. Although I haven't seen or tried these yet, I know I'll wish they made a brown rice and veggie mixture.
Bryan: I'd like to say otherwise, but I have trouble keeping up with all my worldly responsibilities. I don't floss as often as I'm told to, and call me a bad person, but I find it difficult to get my recommended serving of vegetables everyday. There, I said it. Veggies are great, but my schedule is just not regular enough to keep them in the fridge (a rotting problem) or get the full benefit of fresh preparation (a time problem). Birds Eye Steamfresh frozen vegetables solve both my problems in one fell swoop. Also, they are a quality product that thankfully hasn't been coated with, or stored side-by-side with, an overwhelming sauce. These veggies are clean and natural and have the added benefit of the simplest preparation on the market; just stick the bag in the microwave! Though I sometimes take a rigid stance against frozen/prepackaged food, Birds Eye has done everything right with this product. So, just enjoy it for dinner.
Eric: I've become an avid vegetable fan in the last few years. Only recently have I started looking forward to having a big salad for lunch, or snacking on some roughly chopped red pepper or broccoli, or even enjoying the leftover sautéed vegetables that I used to scoff at as a little kid. I've finally discovered that I actually enjoy vegetables, even as much as fruit, and prefer them cooked fresh — not frozen. This is why I was surprised by the Steamfresh product. It's a frozen product designed to taste fresh enough to please even a true foodie. While I would always recommend passing your local farmers' market to pick up some fresh vegetables when possible, this is one of those products I would stock in my freezer in case of an unexpected late-night dinner, or as a quick side dish to a meal.