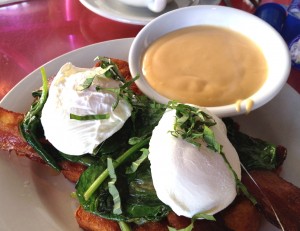 When heading to Miami for the South Beach Wine and Food festival, I asked a local where to to have a fun breakfast. Without hesitation, "Big Pink!"
The Big Pink so reminded me of a diner from the '50s, I almost expected Fonzie and Richie to walk through the door. The portions here are not huge, they're humongous: omelettes are made with five (yes, five) eggs – and that can be made with just egg whites.
The omelettes aren't the only thing big as the coffee cups are the size of an extra large cappuccino ($3).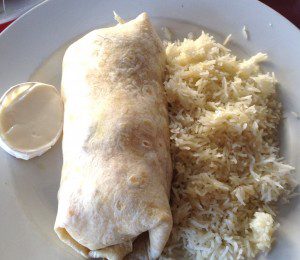 We opted to split two entrees. For one, Pinky's Hollywood Breakfast ($10.25) with a bed of polenta fries topped with bacon, sauteed fresh spinach, shreds of fresh basil and two poached eggs. We asked the rich gooey cheese sauce on the side. Do try it!  And the Big Pink Breakfast Burrito ($9.75) a flour tortilla wrapped around scrambled eggs, avocado and bacon, oddly served with white rice and (white) sour cream. That egg burrito was delicious, but not a feast for the eyes – it sure needed a splash of salsa just for color!
What I didn't learn until after I left was that we should have ordered the giant — frisbee size — freshly made chocolate chip cookie for dessert ($5.50). That'll be for my next visit.
– bonnie
Follow @BonnieBOTB
Big Pink
157 Collins Avenue, Miami Beach, FL
(305) 532-4700 ‎