Prepping for on open house with 70+ guests for Eric's engagement party, I tried to do as much ahead as possible. Silly me, I am just realizing that I'm not as young as I used to be. I just can't stand on my feet as long as I used to.
So…I got uber-organized, making lists and lists and lists of what needed to be done with setting the "stage" and the food— and then did as much ahead as possible. You can too.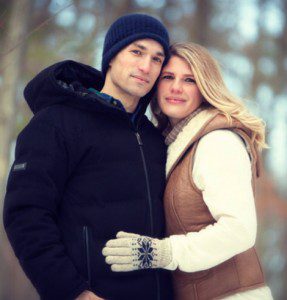 First, write down what needs to be done detailing the menu and what you need for serving it. From that master list, make a list of what can be done ahead, another list of what needs last minute touches. Make shopping lists – both perishable and staples. Keep looking over and adding to the lists – including everything from serving utensils and platters, bowls, glasses, tongs, garnishes and more. Don't leave anything to memory! Buy as much of the paper goods, staples and liquid refreshment (wine, beer, bubbly water) ahead, and look for hard to find specialty items (for me that was a beach mat and honeycomb). Your last minute shopping then is only your day-of perishables.
I cooked and froze huge pots full of soup three weeks before the party. I made split pea using the leftover ham I cooked for my wine group, and a Wild Mushroom and Barley soup, a nod to vegetarian friends (from my Grains cookbook).
Since it was still below 40 degrees F outside, I cooled the soups on the table on my deck with the pot carefully balanced on — and surrounded by — frozen cold packs and stirred every hour or so to bring the temperature to a safe one (under 55 degrees) as quickly as possible, before storing in the freezer.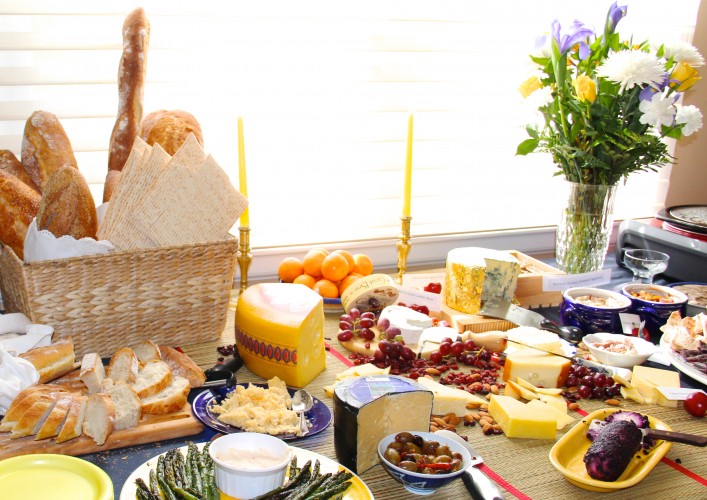 Knowing I would cook the soup long enough on the day of the party to hydrate the barley, I added  it just before freezing. I added a note to the day-of  list to add dry sherry and fresh thyme to the soup prior to serving.
Wild Mushroom Barley Soup
1 pound mushrooms (porcini, portobello, shiitake), rinsed and sliced
2 tablespoons olive oil
2 shallots, finely chopped
2 tablespoons chopped fresh parsley
Salt and freshly ground pepper to taste
6 cups vegetable broth
1/2 cup pearl barley, rinsed and drained
1 tablespoon fresh or 1 teaspoon dried thyme
2 tablespoons dry sherry
Heat olive oil over medium-high heat in a 6-quart saucepan. Add the mushrooms and stir until soft and they have released their moisture, about 5 minutes. Add the shallots, garlic parsley, salt and pepper.
Add the broth, bring to a boil over high heat. Stir in barley; reduce heat to low, cover and simmer until the barley is tend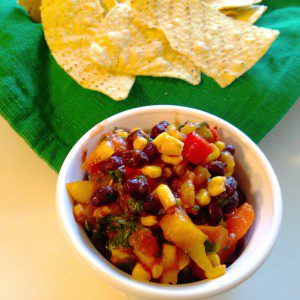 er, about 45 minutes. Add thyme and sherry. Taste and adjust seasoning. Serve.
Makes 6 servings
I also made my favorite quick bean dip (from my Beans cookbook) up until the point where I needed to add fresh ingredients. Meaning, I combined the black beans, my favorite jarred salsa and corn that I dry roasted in my skillet.  To dry roast, just add fresh or frozen corn to a hot skillet, stirring until it begins to char. Cool before combining with the other ingredients.  The day of the party I mixed in diced yellow, orange and red peppers and lots of cilantro.
Quick Southwestern Bean Dip
2 cups cooked black beans
16-ounce jar favorite salsa
1 cup corn kernels, dry roasted in skillet until charred, then cooled
1 each red, orange and yellow bell pepper, cored seeded and finely chopped
1/3 cup freshly chopped cilantro
Regular and blue tortilla chips
To do ahead, combine the black beans, salsa and corn. Before serving, add the diced peppers and cilantro; mix well. Serve with tortilla chips.
Makes 6 to 8 servings
Eric had requested ribs for the dinner the night before the party with his fiancé Casey's family. I got my inspiration for the rest of the dinner from a recipe Kristine Kidd's cookbook Weeknight Gluten Free, as I had been perusing that to write the Guest Foodie post about her. In Kristine's Roast Chicken and Vegetables with Fall Spices, she saved some of spices she was using for the chicken and tossed it with with fingerling potatoes and butternut squash. Great idea!
Rib Rub
1/4 cup chili powder
1/4 cup smoked paprika
2 tablespoons ground cumin
2 tablespoons kosher salt
1 tablespoon dry mustard
1 teaspoon cayenne pepper
Combine all seasonings. Save 2 tablespoons for tossing with potatoes and veggies.
For use on ribs, add 4 cloves minced garlic and 1/2 cup firmly packed dark brown sugar, before rubbing on the ribs.
I tossed some of the above spice rub mixture and some olive oil in a sealable plastic bag with the fingerling potatoes and the butternut squash. I break my own being green rule about plastic bags when it comes to large parties! Ease of clean up is paramount.
Fingerling Potatoes & Butternut Squash
1 1/2 pounds fingerling potatoes, halved
2 tablespoons spice rub (see recipe)
2 tablespoons olive oil
1 1/2 pounds 1/2-inch cubed butternut squash
Toss the potatoes with 1 tablespoon spices and 1 tablespoon oil; toss the squash with 1 tablespoon spices and 1 tablespoon oil.
Heat oven to 450 degrees F. Spread the potatoes and squash in a single layer on one to two sheet pans. Bake 20 to 25 minutes until cooked through.
Makes 6 to 8 servings.
The day before the event, I had pulled out every serving utensil and platter and labeled each of the latter with a sticky listing its intended use. I placed the new straw beach mat (with a plastic liner underneath) over my tablecloth and used that for serving wheels of Kerrygold Cashel Blue, Jarlsberg and Cabot Aged Cheddar Cheese, plus Coach Farms Fresh Goat Cheese with Fig an array of other wonderful cheeses. I scattered fresh grapes, dried fruit, nuts and crackers on the mat, and placed a plate of oozing honecomb on the table to drizzle over the cheese. Next to that was a basket with a dozen loaves of bread.
Once it was all set up, I took a deep breath and moved into party mode to greet my guests to celebrate Casey and Eric's engagement.
– bonnie