While visiting a friend in the Fl Lauderdale area, I accepted an invite to try the new menu at Big City Tavern. I
am so glad I did.
With our cocktails, we indulged in their a few starters. Do try the unusual Asian honey-glazed chicken wings ($12.50). What's not to like about truffle parmesan hand-cut French fries? ($10.50)   And, so that we could sample more than one pizza variety, we asked for half Margherita (San Marzano sauce, fresh basil, mozzarella $15) and half Salsicce (with sausage, $16) all covered in fresh arugula (+$3.75). Not NY pizza, but still good.
Even better are the entrees we sampled. The rich and hearty duck parpardelle with an abundance of wild mushrooms and duck confit ($24.50)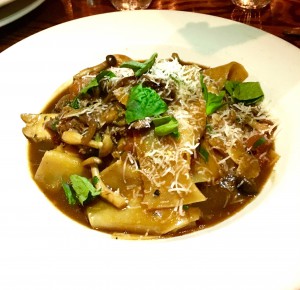 ; a meal in itself. What really shone is the pan-roasted pork chop, something I don't traditionally order, but the manager highly recommended it. We were so glad that we followed his suggestion and accepted his offer to slice it after presenting it to us. The tender ginger-glazed 12-ounce pork chop ($26) was cooked to perfection, still pink and oh, so tender, served with roasted plantains, charred pineapple and steamed cauliflower. It's not to be missed.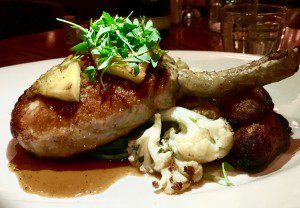 Our limoncello cheesecake ($7.50) and chocolate tavern cake (layered cake with chocolate cream and chocolate ganache, $7.50) were flavorful, but not worth the calories, especially after such a rich and satisfying meal.
– bonnie
Big City Tavern
Fort Lauderdale
609 E Las Olas Blvd
Fort Lauderdale, FL 33301
(954) 727-0307